There is nothing more disturbing than a pair of dirt-patched white socks. Clearly, dirt and white do not make a great couple. Well, it is needless to say that dirt does not go with anything. And especially, when it comes to light and soft colors, congratulations! You have successfully ruined the piece of cloth. Wait! Are you going to put your favorite white pair in the trash can? No way! There are some simple methods by which you can whiten your socks in a blink.
These are:
Washing with baking soda

Lemon juice

White vinegar

Hydrogen peroxide

Bleach

Laundry detergent

Dishwasher cleaner

Boric acid

Ammonia

Turpentine
You see, there are various easy-breezy ways to wash your socks. We are sure you can't wait any longer to take out the old white pair and make them look like new ones. Let's know how to whiten socks.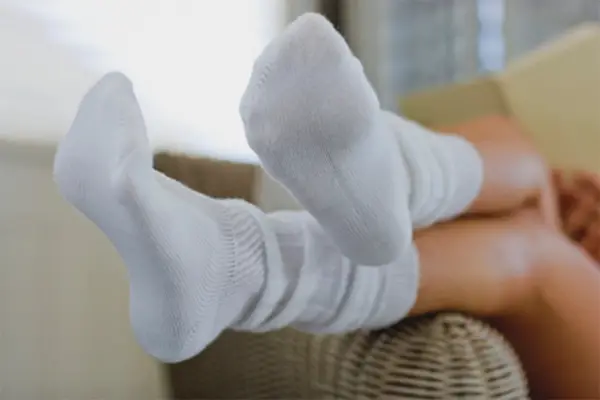 Methods to use to whiten socks
Now you know that you will not throw your socks. Instead, you are going to wash them. Now, the biggest question is how to clean them with the ingredients mentioned above? Obviously, you are not going to mix all of that, right?
So, here is how to wash and whiten the socks, method by method.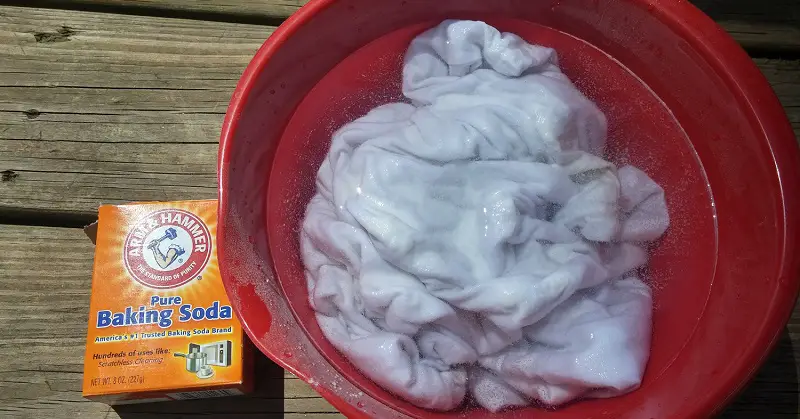 Image Source
Baking soda is the most common item in our kitchen. You might know its stardom in terms of baking, but did you know that it is a secret superstar in cleaning too?
Sodium bicarbonate, popularly known as baking soda, has a multidimensional utility. It has been claimed by many people that a paste of baking soda with minimal water can work well as a scouring powder. Moreover, it also controls odor. 
Now the question is how to use it? There is a simple method by which you can get your socks in snow white color after washing.
You will need:
A bucket (if you have a washing sink, the bucket is not required.)

Warm water

A bucket (if you have a washing sink, the bucket is not required.)

Warm water

Baking soda

White vinegar

Detergent
Fill your sink or a bucket with warm water. Don't make it extremely hot. Lukewarm water would probably be the best for this method. Sprinkle plenty of baking soda in the warm water. Do not compromise on the quantity. Then you need to put your patched socks in the warm water. Let them soak for a couple of hours. 
After bringing them out, throw them to wash. Add a small cup of baking soda to your daily detergent and wash and rinse the socks thoroughly. You can also add a cup of white vinegar for softening to the rinse. And Ta-da! You got your snow-white socks.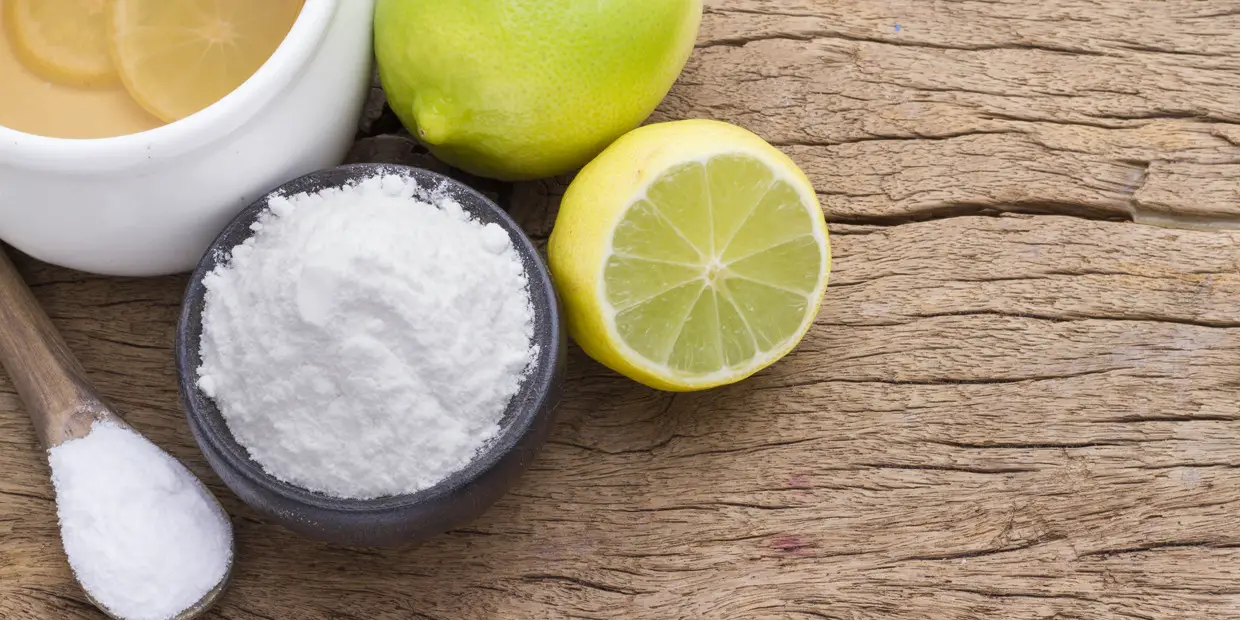 Image Source
I bet you didn't know about this. I mean, who could possibly know that our humble lemon can beat away the dirt and stain out of a pair of socks.? Well, you should not be surprised because it really does so. Now, there are two methods by which you can whiten your socks with lemon or lemon juice.
You will have to get all the ingredients ready at your disposal for the first method.
You will need:
a large pan

 ½ cup of lemon juice, and

 liquid dish soap. 
Add ½ cup of lemon juice, some liquid dish soap, and water in a pan. Put your socks in it and heat the pan until the water boils. Let the socks boil for about 20 minutes. 
After cooling it, pull the pair out and wash with normal water. Rinse all the bubbles from your socks, and there you go! Your socks are 'whitewashed'!
Another method is also there to use a lemon to whiten the dark socks. You can directly squeeze lemon or add some lemon juice directly to the patch areas. Sprinkle some detergent over it and rinse it. Wait at least fifteen minutes, and then wash it off in a regular way. This method is also effective in removing the dark patches.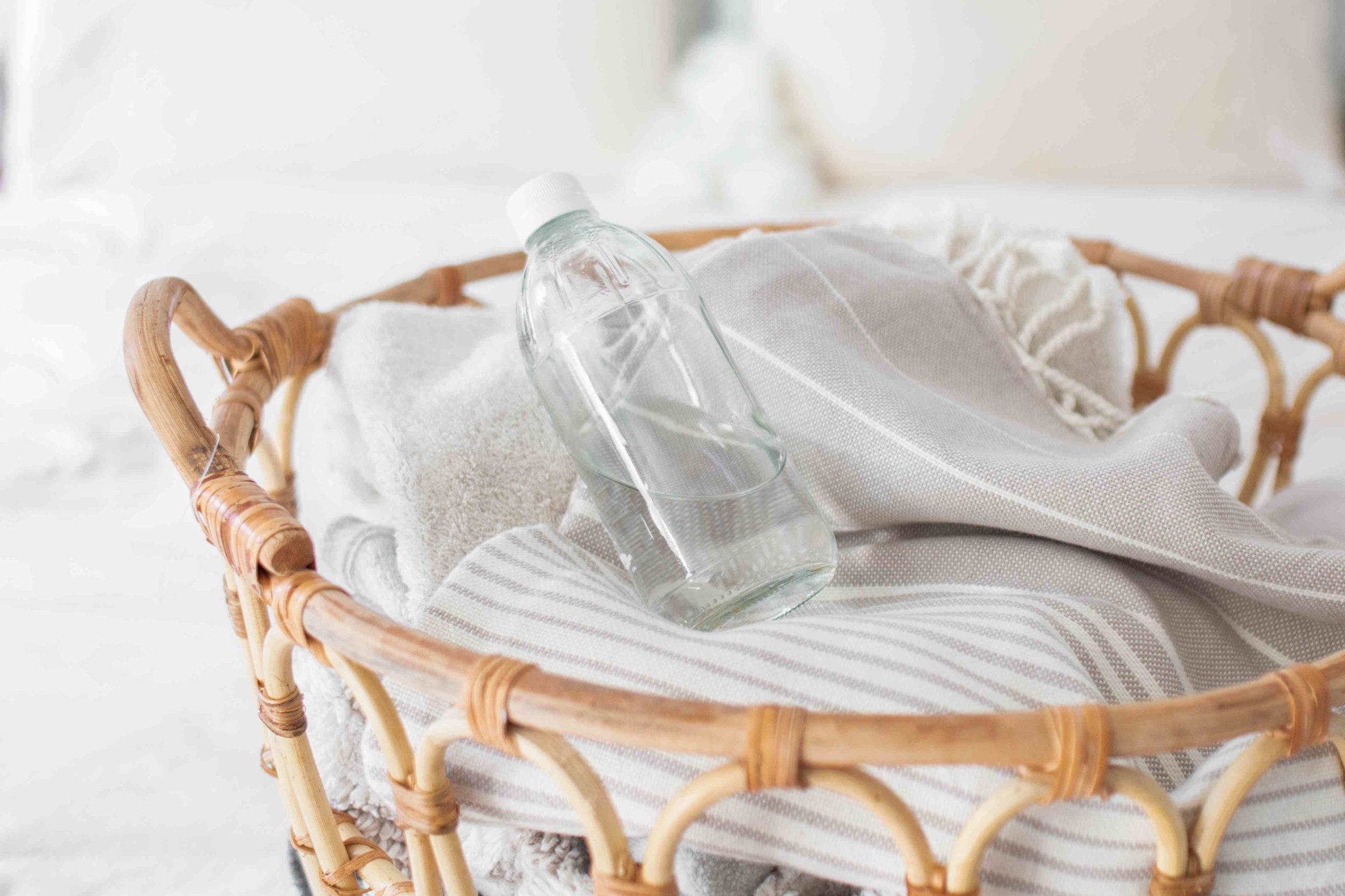 Image Source
Oh yes, you read it right! White vinegar is a fantastic bleaching agent that can clean your socks. Are you surprised? You shouldn't be, because the jaw-dropping performance of vinegar is not new.
In case you do not know how to use it, here is a description in a nutshell for you to glide through it. But first, you have to get all the ingredients ready.
You will need:
A large container

Water

White vinegar
The acetic acid in white vinegar works as a bleaching agent and whitens your socks. What you have to do is follow some easy steps to obtain a satisfactory result. First, boil a fair amount of water in a container large enough. Put your dirty socks in the warm water. Then add a cup of vinegar to it. Let it soak overnight in the vinegar-water mixture. Wash the sock with your daily detergent the following day. 
This is a chemical compound that is used in most commercial laundry bleaching agents. Hydrogen peroxide is used in bleaching paper and pulp. But the second most significant industrial usage of this compound includes the preparation of Sodium percarbonate and Sodium perborate, the two mild bleaches in the laundry detergents. Hence, Hydrogen peroxide is a pre-existing supreme agent in the bleaching world.
But, all these are industrial usage, which is much more complex to perform at your home. The biggest question here is how to use this compound and its bleaching abilities at home?
Well, here is the easiest method by which you can get through it. You will have to get these items ready at your disposal:
Hydrogen peroxide 3%

Warm water

A bucket (not required if you use a washing sink)
Mix a cup of Hydrogen peroxide in a gallon of water. Remember, the water should be warm. After that, you need to throw your dirty socks in the mixture. Let them soak for half an hour or one hour. Pull out the socks and put them into the washer. Add ½ cup of hydrogen peroxide into the bleach dispenser. Regularly wash them.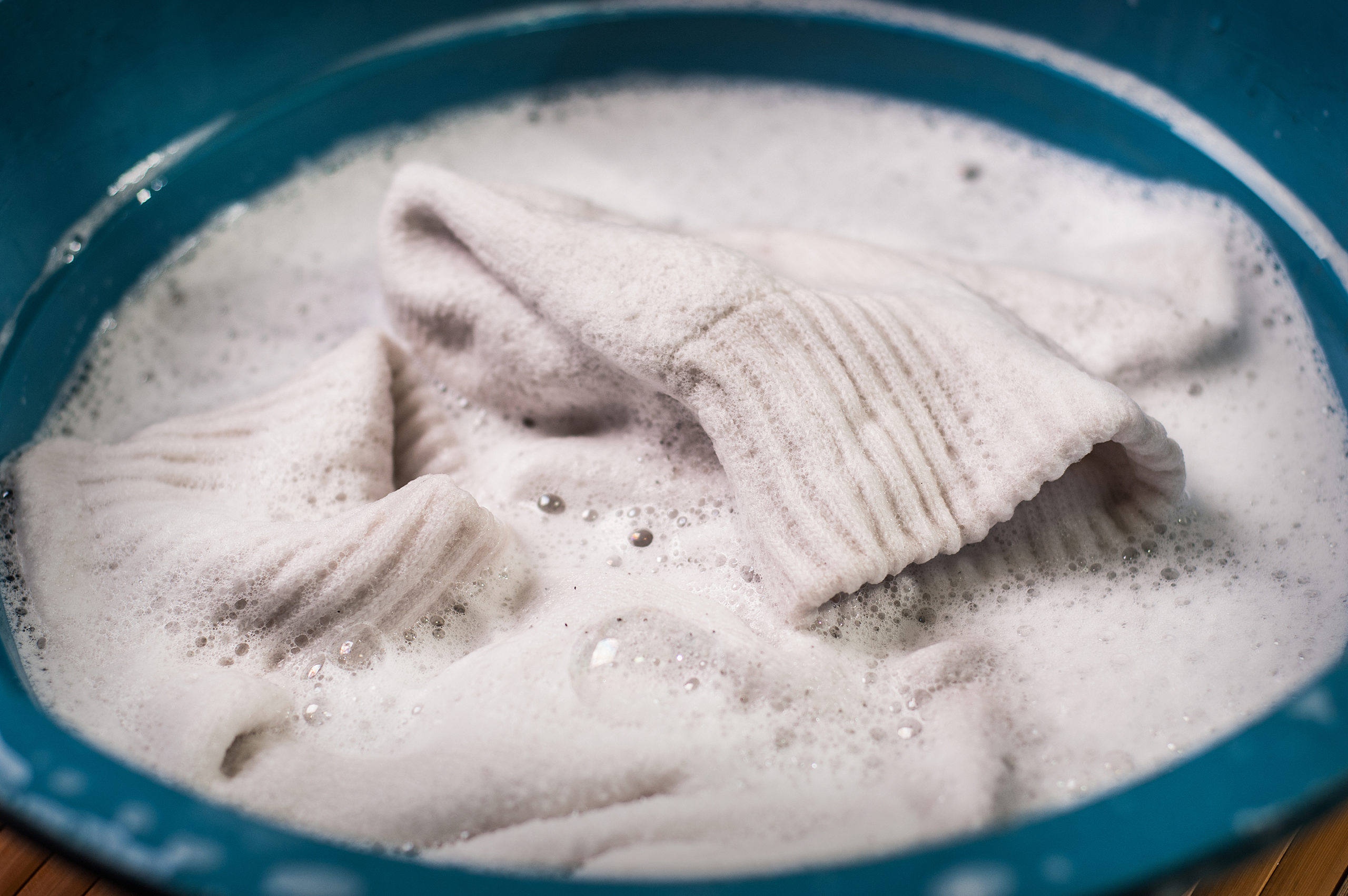 Image Source
Now, this is something you must have thought of in the first place when it comes to whitening hosiery. If I were in your shoes, I would have done the same thing. In most cases, people go for bleach to whiten the clothes. It is okay to use bleach when it comes to cleaning or removing the dark patches from a pair of white socks or, let's say, white clothes. But bleaching has a disadvantage when used on colorful ones.
Sometimes, the color fades because of bleach. Nowadays, many manufacturers have produced 'oxygen bleach' or 'color-safe bleach.' It is better to use it with colorful clothes. But regular bleach is okay for the white stuff.
To use bleach to whiten your socks, you will need the following things:
Warm water

Bleach

Pan or sink

Dishwashing soap

detergent
Many people apply bleach directly while washing the socks. But I would recommend pre-washing the socks for the best results. In a pan or sink filled with warm water, add four tablespoons of bleach and a few drops of the dishwasher soap. Put the socks in the mixture and let it soak for some minutes. If you have really dirty socks, let them soak for 10 to 15 minutes. After taking out the socks, wash them with your normal detergent.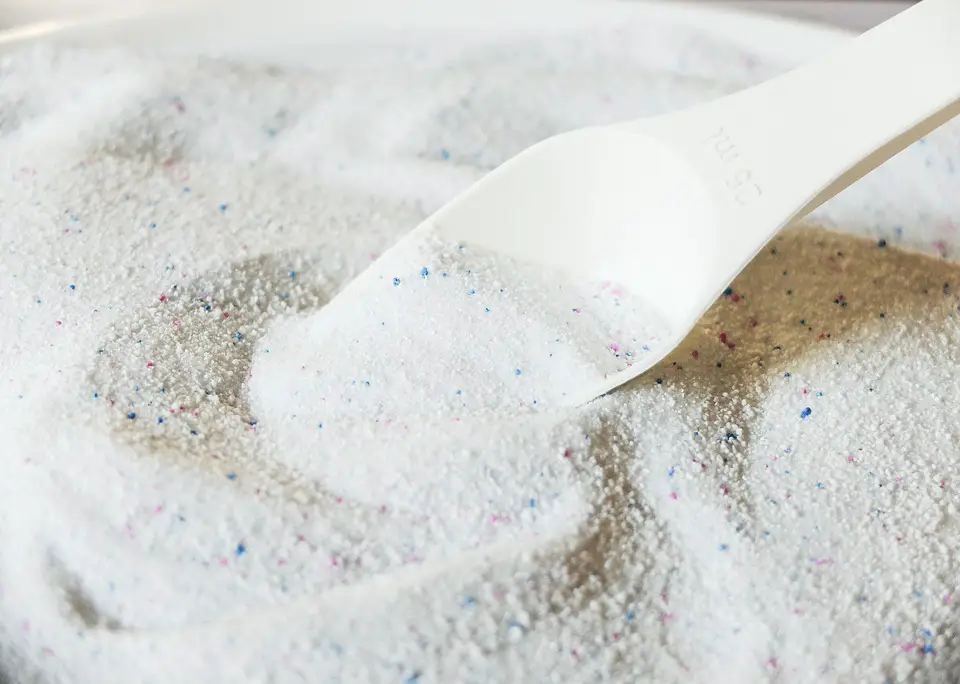 This option is an all-time solution for cleaning garments. However, in the whitening department, people might not give it an A+ score. If you are also one of them, then your thoughts might change after knowing what magic detergent can do with a proper application. You might then want to reconsider your decision of not giving it a score of A+.
What you will need to work with detergent is as follows:
Warm water

Lemon juice

Detergent

Plastic bag
Take warm water in a bucket or a sink. Then add ½ cup of lemon juice to it. Soak your dirty socks in the warm lemon water and let them sit for some minutes. After taking them out, you will have to work with the detergent. It can be powdered detergent or can be a soap also. You can even use liquid laundry soaps. Add a few drops of laundry soap to the filthy areas of your socks.
If you are using powdered detergent, sprinkle plenty of powder. In case you are using soap, rub it onto the socks. Focus on the dirty areas. Put the socks in a plastic sack and tie the pack. Let it sit overnight. Take out the socks and wash them the following day. I am sure you have never thought of working with detergent this way. Well, try it and thank me later.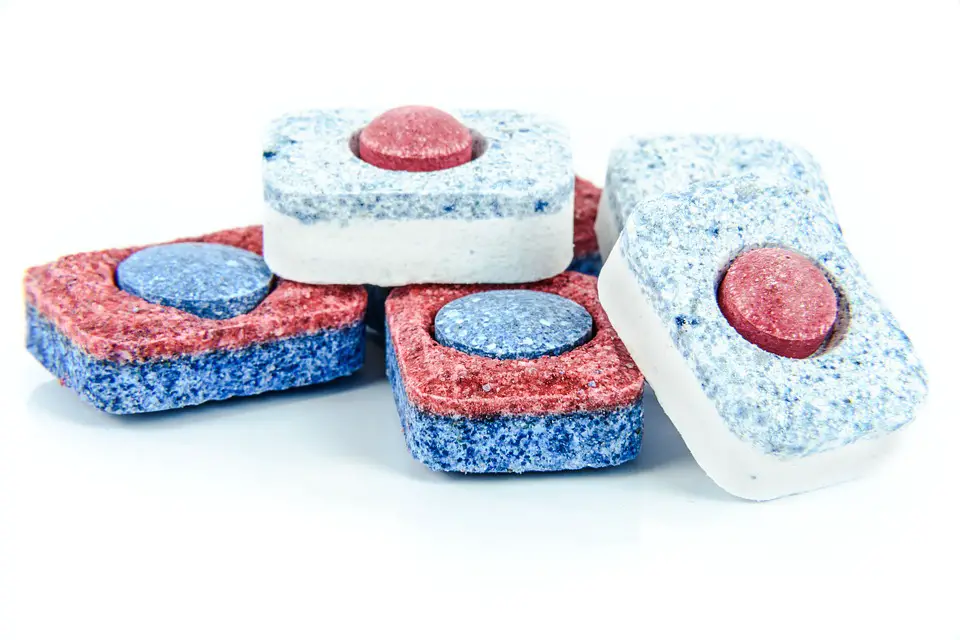 I think by now, you have understood that dishwasher cleaners are most effective when it comes to removing stains or whitening clothes. Now, dishwasher cleaners are not supposed to be used directly on the clothes because the fabric can be ruined due to its harsh bleaching effects. But this can work well as a catalyst to a laundry detergent. There are two ways by which you can effectively use a dishwasher to clean or whiten your socks.
You will need:
Dishwasher liquid/ dishwasher tablets

Detergent

Warm water
Take a bucket full of warm water. Add the dishwasher tablets to it. Throw your socks in the bucket. Let it soak overnight. Pull out your socks from the mixture the next morning and wash them.
Let's say you are not using dishwasher tablets. Instead, you take liquid dishwasher soap. The method to wash with the liquid soap is similar but a little different. Let me tell you. Take an ample amount of
detergent in a bucket filled with warm water. Add four tablespoons of dishwasher liquid to it. Throw your socks in the bucket and let them soak for some time. Wash it in a regular way. 
Boric acid is another chemical compound known for its multifaceted utility, not only in cleaning, but in removing odor as well. Some people use the powdered version to remove odor from the refrigerators. It is even effective in medical usage as well. Some use this chemical as an antiseptic for minor burns and cuts. 
It is pretty famous in the medical field. But its cleaning abilities are worth praising. Now, how will you use this for whitening your dingy socks? 
Let me introduce you to the easy ways to clean and whiten clothes with boric acid.
You will need:
Boric acid

Water
One thing to remember here is, boric acid only helps to remove the stain. You need to wash your socks afterward. Prior to cleaning them, pre-wash the pair in boric acid solution to make it easier to remove the stain. You might get it in chemist stores of pharmacies in powdered form or alcohol solution.
Mix one tablespoon of boric acid with one liter of water (or if you need more, the ratio will be according to this). Put your socks in it and let them soak for a couple of hours. Pull them out of the mixture and wash them in your daily detergent. The pre-washing with boric acid solution will make it easier to whiten the socks, removing the patches.
Ammonia can be an effective agent while whitening socks. This chemical compound of Nitrogen and Hydrogen has extensive usage in terms of industrial production. This compound is used in fertilizers, as a cooling agent in refrigerators, and to clean household stuff.
There is a fascinating function of ammonia-alcohol solution on white clothes. The yellowing effect that magnesium has over the white garments can be prevented by using ammonia.
You will need:
Ammonia

Water
Mix a couple of tablespoons of ammonia with a liter of water in a bucket (even if you need more, the proportion of ammonia and water will be the same). Throw your dirty shoes in the mixture and let them soak. After two hours of soaking, bring them out and wash them regularly.  
Turpentine is a kind of distilled resin collected from trees, mainly pine trees. Besides its usage as a solvent, turpentine is also used in the medical field for its antiseptic abilities. It is also used as a raw material for fragrant chemical compounds. Let's know a bit more about its cleaning properties.
Turpentine may help you in restoring the milky white color of your favorite pair of socks. For this, you will need 
Turpentine

Detergent

Bucket

Water
You need to dilute three tablespoons of turpentine with three tablespoons of regular laundry detergent. Stir the mixture well and put the socks in it. Let the socks remain in the mix for the rest of the day. Wash it thoroughly the following day.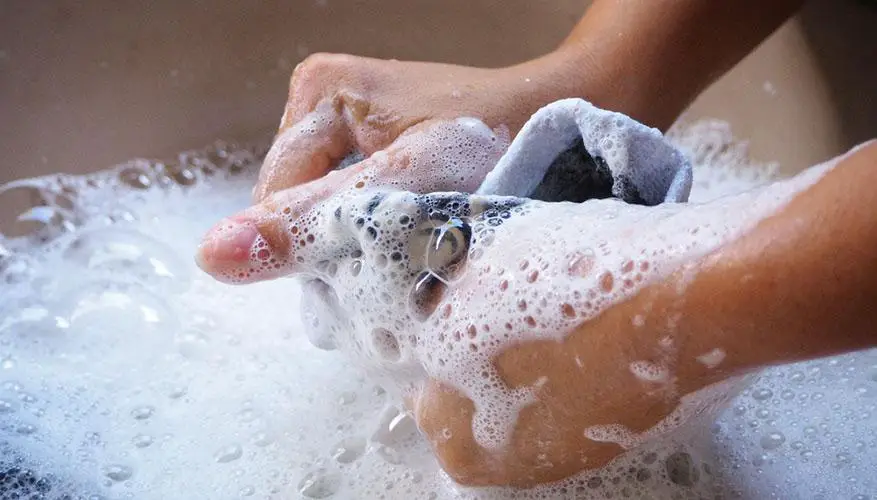 Image Source
The method might whiten your socks well. However, you need to be very careful while using it. Being a solvent, it can cause problems for the lungs, skin, and eyes. Take proper precautions prior to using this.
Final Lines
Probably the most daunting task in this would be cleaning. Cleaning seems tiresome to most of us. But maintaining hygiene is the first and foremost thing to living a healthy life. And when it comes to hygiene, we all prefer to be steady, don't we? 
It is evident that nobody would love to wear dirty clothes or patched and stinky socks. Often, detergent wash cannot ensure the snow-white color of socks. They could appear yellow. And that is the most disgusting scenario one can ever deal with.
But, there are several ways through which you might be able to restore the newness of the color of your white socks. Try the techniques mentioned above at your home and see the magic. Now, you do not have to use a trash can to dump your favorite pair of socks. Instead, you can try them on again by applying these tricks.