Pantyhose or tights are one of the coolest additions to women's fashion nowadays. These are super comfortable and can be worn under skirts, dresses, jumpsuits and any other dress for a stylish look or just for giving yourself warmth. Since the 1920s, pantyhose has been a constant staple in women's wardrobes all over the world. 
However, it can be quite tricky to wear them, especially for beginners. Also, there are a lot of types of pantyhose. Knowing the perfect kind and the perfect fit is necessary for you to keep up with the trends. 
Hence, here is how you can wear pantyhose. It can be a little tricky at the beginning. But with the proper steps, you will be able to wear and carry it with ease. Hold tight!
Pantyhose: A brief history
The term pantihose came from two specific terms. The American-English term panty and the sheer nylon hosiery-these two are the sources for this word. In British English, these garments are called sheer tights. The term tights is a general term for hosiery garments like this. Be it a nylon garment or any other thing, be it an undergarment or an outer garment, tights are referred to as hosiery only. 
The history of sheer tights or pantyhose can be traced back to the 1920s. Before that, the preconceived notion about women's fashion was that they should cover their legs in public. And therefore, hemlines came to light. However, the hemlines of skirts and dresses were not appropriate for sports or any other public activity. Hence, tights were considered to be the best option for women to chase the purpose. 
Later, over time, women's fashion saw an evolution. And with it, the variety of pantyhose also changed. Different types of stockings came to light after 2000. 2010 saw the popularity and rise of different styles—for example, fishnet tights, footless shapewear and many more. 
What's the Difference Between Tights, Pantyhose, Stockings, and Leggings?
Do you feel that perfect, fresh chill all around? Well, well, it is obviously the season for thick sweaters, for pumpkin lattes, and for pushing your pale, uneven legs into a fit stocking or pantyhose and flaunting your legs. 
Seems quite interesting, right?
Now, here's the twist. Many people do not know the basic difference between pantyhose, tights, stockings and leggings. And if you are one of those, it is high time you realize the stark differences. Not everything goes with a flare dress or a short skirt.
Seems overwhelming, eh?
Well, let me break it down for you here. 
Let us first start with pantyhose. 
This one is the thinnest in the line. These are usually made of nylon. And since these are the thinnest in the lot, visually, they are sheer. That means you are allowed to flaunt your sleek legs. These are footed stockings that reach up to one's waistline. Usually, they come with a denier of 8 to 30 to fit for everyone. 
The next on our list are tights. 
Tights are by and large thicker than pantyhose, with a denier of 40 to 100; they can go from nearly transparent to absolutely opaque. In contrast to pantyhose, they provide you with a scope of textures, fabrics, and styles.
However, they are generally footed and worn under some skirt-or dress-type clothing. Tights is also the term for the stretchy leg-wear worn by dancers and acrobats, donned under a leotard, tutu, or something else. 
Up next, we have stockings on the list.
Stocking sometimes can be quite similar to tights. These are other types of undergarments that come in different styles, shapes and fabric options. Now a valid question might cross your mind. How are they different from tights or pantyhose?
Well, unlike pantyhose, these do not reach up to your waistline. Rather, they reach only up to the inner thighs. And also, they are tied with garter belts or suspenders.
The last one on the list is leggings.
These can comfortably be replaced with actual trousers. These can be called the distant relatives of yoga pants. However, these do not cover the feet.
They start from the ankle-length and reach up to the lower calf or waistline. Leggings are skin fitting pants that come in a number of varieties- printed, patterns, fabrics and different styles. These are, no doubt, good options when it comes to yoga, sports, or daily wear. 
Types 
With a set of stories tracing back to Queen Elizabeth in the sixteenth century, pantyhose arrived at mass prevalence during the 1920s. Rejuvenated again by design symbol Kate Middleton – otherwise known as Her Royal Highness Princess Catherine, the Duchess of Cambridge – Pantyhose is a closet staple for ladies worldwide. With an assortment of styles and shades, ladies have numerous choices for hosiery.
Now, let us know the types in detail. 
Most pantyhose are supported from the upper to mid-thigh region to smooth the outline and ensure an appropriate fit. This piece of the pantyhose is noticeably more obscure than the remainder of the nylons. Sheer to waist hosiery are pantyhose that don't have the support region on the thighs. With sheer nylon from the underwear to the foot, this style functions admirably when wearing a miniskirt or more short flare dresses.
This one is quite popular among women. This one has a panty that acts as a support to the abdominal area. As a result, this serves as shapewear as well. Hence these help women to feel more in shape and more confident. Control top pantyhose are generally available in black and skin tone. 
Add some spice to your undergarments by wearing thigh-high pantyhose. This hosiery style includes a lace at the highest point of the piece of clothing that reaches up to the upper thigh. While these pantyhose can stick on the leg without help from anyone else, ties can likewise be worn with thigh-high pantyhose to add more sentiment to a look. Besides the tasteful idea of these pantyhose, thigh-high stockings can be simpler to wear since they need not be eliminated in the bathroom.
Support Pantyhose and Stockings
These ones are also medically helpful. If you have bad circulation or, let's say, your feet are tolerating too much, the support pantyhose or compression pantyhose can be the best option. These are made from more dense fabric pieces and are hence called compression stockings. These are available in medical stores. 
How to put on Pantyhose?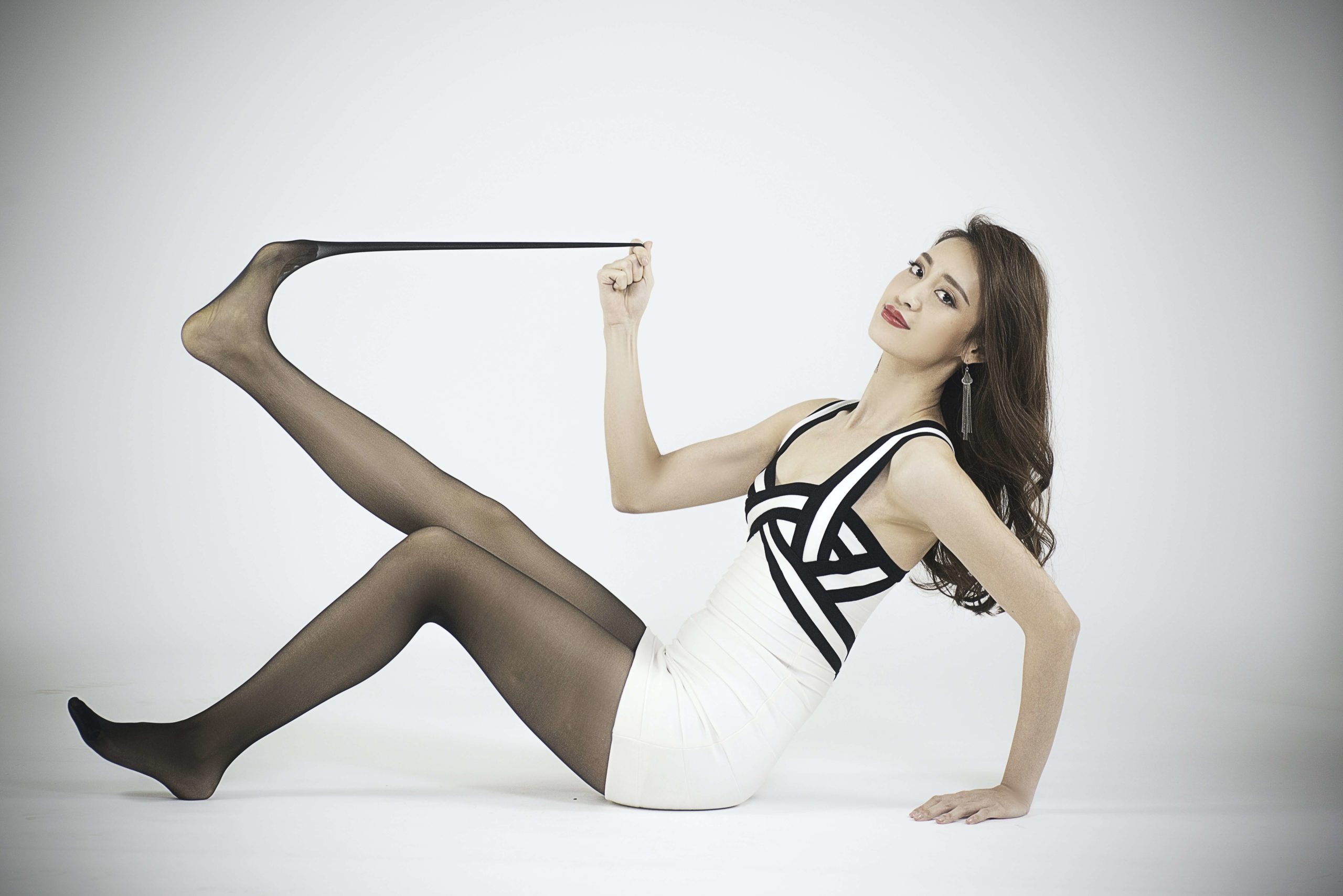 Let us come to the crux of the topic. Wearing pantyhose is quite easy if only one knows how to. For beginners, it might be a little bumpy at the very beginning. But worry not when we are here. Because, here is a full-length guide on how you can put on the pantyhose. 
Here's a step by step guide for you. 
Choose the proper first for you according to your size and weight.

Prepare your hands and feet for wearing. A slight uneven scratch can tear your pantyhose.

Before actually wearing them, stretch a little bit lengthwise. 

Position the pantyhose front-forward. 

Assemble one leg of the stockings to the toe. 

Point your toe and slide your foot inside. 

Ensure the pantyhose leg isn't bent or folded when you put your foot inside. 

It is simpler and more secure to be sitting when getting into your pantyhose. 

Tenderly draw a smooth texture up to your thigh. 

Repeat the process with the other leg as well. 
Understand one thing first, that all the pantyhose in this world is made so that the top section of the hosiery is just like a panty. Now, you need to decide how you want to fit into your upper area. 
The control top pantyhose come along with some underwear in the middle section. It may help you to get a tuck in the proper position. 
However, some people have denied the notion of control tops. The excessive tight feeling around the waistline and the discomfort have turned down many.
The regular ones, however, can be the best alternatives. They do not put extra support around the midsection or the middle portion. Hence people can comfortably wear these. 
But whatever you choose, make sure you are choosing the right fit and right size for you. Why?
Because selecting the wrong size will create an issue. Extreme fit will make your legs look bulky, and excessive loose ones might not give you the sensation that you want. 
Choose the style accordingly
Generally, pantyhose is sheer or semi-transparent. And often, they are made from nylon. So you might well understand that they are meant to give you that spiced up look. But there are people who only want stockings or pantyhose for warmth only. In that case, you'll have to choose in terms of transparency and fabric density. 
Cut your nails of your hands and feet. Also, make sure you do not have any unwanted body hair left. This step is significant. If you are wearing sheer pantyhose, the chances of tearing them increase. 
Why so?
Because the smallest scratch from your nails or your body hair ( sometimes) might ruin it, hence make sure you prepare your hands and feet well. 
You need to take out the product from the box or the packaging. This includes removing the cardboard boxes and all. Be careful while taking this step because here also, the slightest fault might tear the stockings.
Now, after unpacking them, it is time for stretching. Stretch them lengthwise. Be careful while stretching. Excessive pressure might create an issue and tear them.
Now, this step is quite tricky. 
After opening and stretching, now it is time to show it on your legs. So, first, sit down in a comfortable position. While sitting, hold the stockings in a manner that the tow or the front is facing forward. 
Now, find the waistline of one of the sides and start getting hold of the fabric until the toe comes out. 
Now point your toe towards the hosiery and slip the foot gently inside. Put the foot inside and adjust the stocking so that the toe area is fixed. Now gently pull the remaining fabric up until it reaches the waistline. Make sure you do not haste or hurry. Take time and pull it upwards. If you feel it is crumbled up in areas, you may take it off and again pull up and adjust. 
Once done, style it up with your skirt or flare dresses.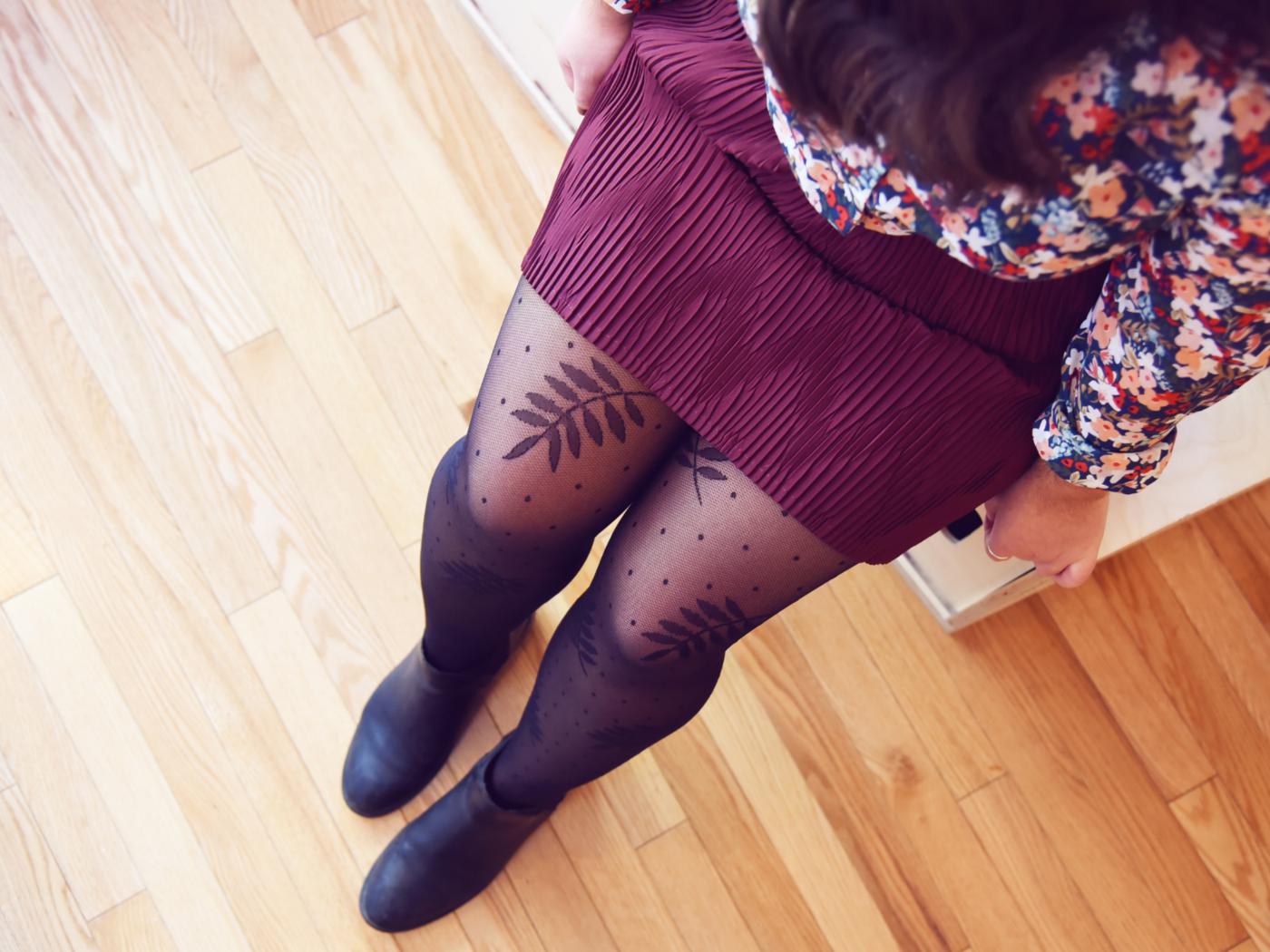 Final Lines
Pantyhose is an excellent addition to your wardrobe. If one knows how to fashion it with the clothes, the flaunting legs can be the quintessential element to your presentation. However, wearing them might be a little uncomfortable or difficult for the first time. But the ways and hacks mentioned in the article will always help you out. 
We hope this article helps you. So what are you waiting for? Take out your pair and slay in your stunning looks. 
More Posts for You: