Adidas Stellasport leggings are a unique product offered by the fitness brand. The name itself is basically just the name of the designer who took part in designing this legging and many others and has been collaborating with Adidas since 2005. Adidas Stellasport leggings is one of our favorite because it is different from your everyday leggings design but has all the qualities of a top brand like Adidas.
This Adidas Stellasport leggings review will try and give you the best and most updated information on the tights by the famous designer. But we are in no way claiming to know more than what is offered on the official Adidas site. We simply try and combine all the info we know and can find into one article so you could figure out yourself if it's worth getting or not. We use the official site, reviews, user generated content and many other sources to write these reviews, so we belive they have value to give.
How The Adidas Stellasport Leggings Was Born
Talented fashion designer Stella Nina McCartney partnered with Adidas back in 2005 to bring her unique style and fashion gift and create a fitness tight or leggings that will combine sport, wellness and sustainability. Obviously she didn't want to lose the brand advantages in technology and functionality, so the mix of her style with Adidas cutting edge production made one killer leggings.
McCartney said she wants to create leggings for how modern women live, and she tries to push the boundaries every season ( with this Camo tights she really did it ) like using more fabrics from recycled materials like Parley Ocean Plastic® and more. The brand says that this collaboration keeps bringing innovative sportswear to women and the Stellasport leggings camo tights is no different.
Adidas Stellasport mission statement
You don't have to wear athletic tights only for the gym. With the Stellasport leggings you can wear them to the city and do pretty much what ever you want. The designs are created for women who want and demand more from their athletic apparel. All the designs come with cool high quality prints, many hues and sizes and they are adaptive and agile just like you are.
About Adidas Stellasport Camo Tights
This amazing leggings comes in intense blue color which is what we consider to be the main color, but as you can see from the images, it has multiply colors to it. The leggings are made from moisture wicking materials to keep you nice and dry.
These leggings are for the days you want to jolt your system or anyone else around you actually LOL. They are a little bit flashy, but that's exactly what they want to say. The light-weight and sweat wicking fabric will help you feel comfortable during your workouts.
The tights come with a fit size meaning they stay close to your body and the camo pattern is from top to bottom. The Adidas Stellasport logo is on the waistband and the left calf.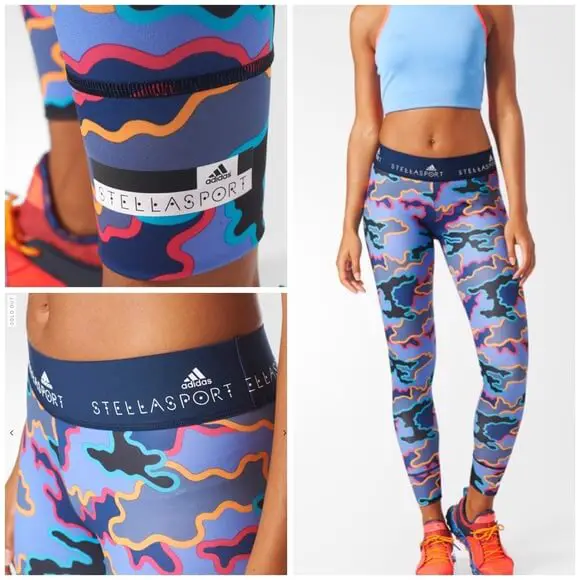 Specifications of Adidas Stellasport Camo Tights
Fabric: climalite® to keep all your sweat away from your body
Waistline: Elastic
Pattern: All over camo print in intensive blue color mix
Logos: On waistband and left calf.
Materials: 70% recycled polyester, 19% polyester and 11% elastane interlock
Inseam: 25.5″ ( Size M )
Fit: Fitted ( close to skin )
This item is also a part of the Adidas sustainable product program. If you don't know what that is it's where the company uses recycled materials to save resources and decrease emissions and help our planet. Products made as part of this program are made in more sustainable ways to make the world a better place.
Stellasport Camo Tights Product reviews
The item got an average of 4.5 stars out of 5. The two best features that users mentioned was the comfort level and quality of the leggings, which means they are really comfortable and look great.
People also said that they fit perfectly and are in a perfect length. Another thing to consider is that girls said that the leggings are a little bit darker than the photos show and that it may be a little bit sea through, so take this into account.