The Camo leggings look has always been popular. Camouflage clothing is being used by almost every big clothing brand and the trend didn't skip the fitness fashion too. From tops to caps to camo yoga pants and yes, even leggings.
In this article we will review where the camo look originated and show you the 10 best camouflage leggings we found online.
Camo Leggings Place In The Fashion Industry
The camouflage pattern and look, also known as UCP ( Universal Camouflage Pattern ) was originally used by the US Army to be the pattern for their combat uniform. This pattern was chosen out of 10 different patterns that was tested because it had the highest score and provided the best concealment in many different situations and locations.
Like many times in the fashion world, certain designers took inspiration from the army look and adopted the camouflage look to fashion every day clothes. One of these was the already popular leggings which was given the camo look in many different colors and patterns but with the same principal:
1. It goes nice with almost anything. Not sure if it was intentional or not, but the camouflage pattern the army use can go very well with pretty much any basic other color. From there to the daily use is just common sense.
2. mostly they use dark colors, while in the army they use a combination of green and black, in the fashion industry they allow themselves to play with the colors a little bit more, but still you will mostly see dark colors, keeping true to the original design. 
3. Sense of pride. Let's face it, most people know first hand someone who served or is serving in the army, so wearing patterns matching their friend/husband/wife makes you feel close to that person and give your respect.
Styling tips for people who like to wear camouflage leggings
There are a lot of patterns to chose from, but the one basic rule actually for wearing a camo legging and making it look good is just keep it simple. The best thing about this pattern is the fact it goes very well with a plain white T-Shirt.
*PRO TIP: Don't wear tight t shirts when going with a camo pants, usually they are similar to cargo pants and they will be a little bit baggy, unless they're leggings obviously, but even so, wearing a slightly loose shirt will perfect that soldier look.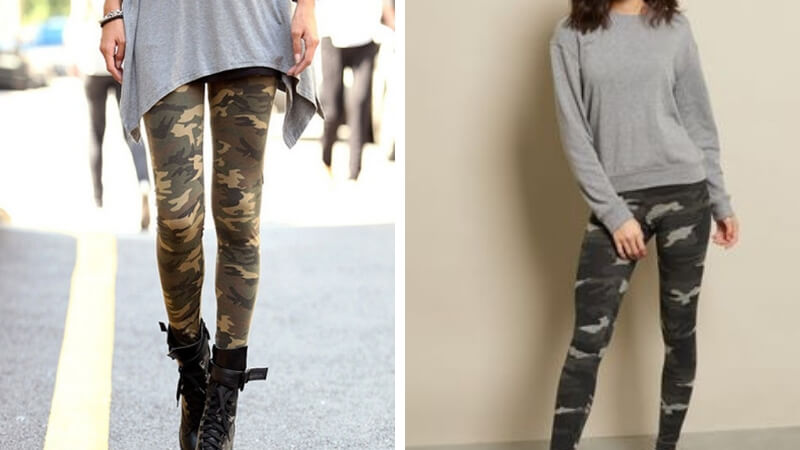 Dark colors will work best when wearing a camo look. So stick to the blacks, or dark green, never go white or grey as they lose the point of the concealing.
If you're wearing it to the gym, you will be happy to know that most camouflage leggings are not see through. That's because even if the material is a little bit see through, it won't show your undies because of the patterns and it will blend nicely.
Don't over do it. Don't wear both leggings with camo and a shirt with the same pattern, you're not going to fight in the desert, just choose one and go with it.
Your shoes matter, either wear boots, to complete the military look, or some other high top shoes or kicks. Skater shoes will not really work here as they are too low. Obviously sport shoes will be fine if you're going to work out.
Make sure to go for quality, you don't want the colors to fade after a few months or look bad too quickly.
If you want to learn more about how to wear leggings in general, read our guide on the rules of wearing leggings and learn something new.
Now that we now what camo leggings are, let's look at 10 awesome leggings with the camo look
1. Gymshark seamless camo leggings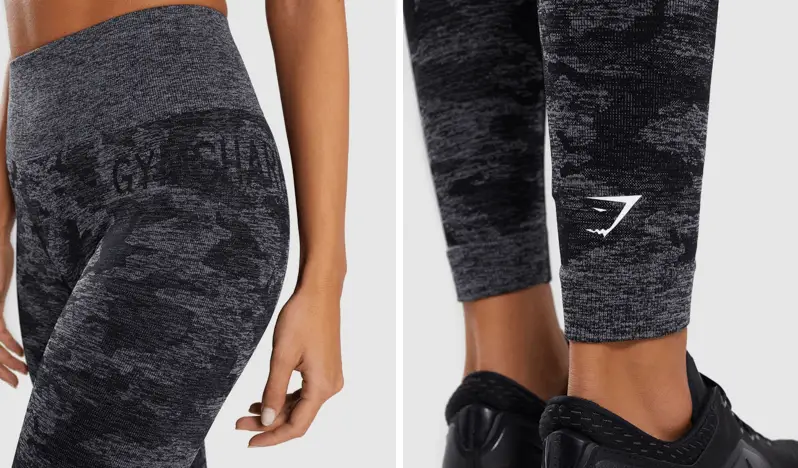 Gymshark pretty much established themselves as a premiere brand in the fitness clothing niche, and they obviously offer a great seamless leggings with the popular pattern.
2. SPANX fuax leather leggings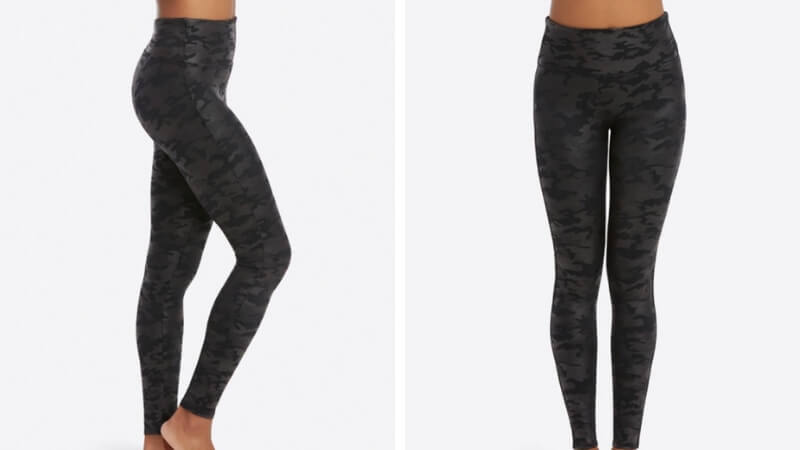 YES, you can wear leather leggings that comes in the camo pattern, why not really? And the SPANX brand has the perfect pair for you. Thank us later.
3. NIKE Camo training tights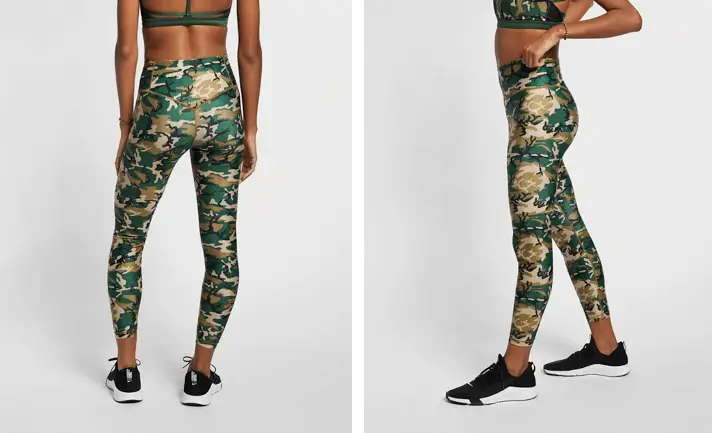 Can we really write a post about tights and leggings and not include the Nike brand? I don't think so. They pretty much have any variation and any color or pattern you want to get.
4. Lululemon Align Pant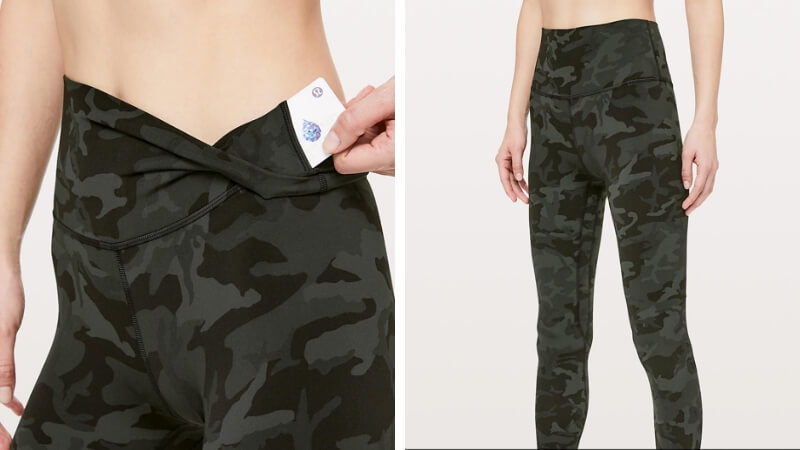 The high class brand couldn't afford to skip this pattern. You get everything you're used to and love in the brand with the familiar pattern you want. What's not to like.
5. Adidas Stella sport camo tights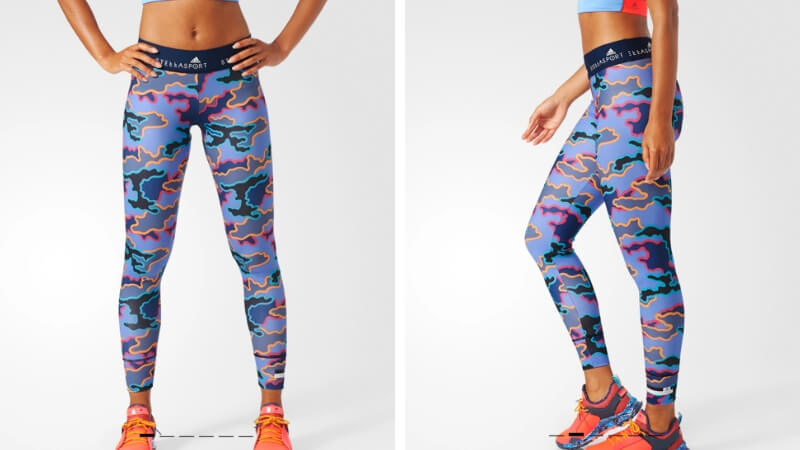 Adidas took it to a whole new direction when talking about camo. It looks more like a pair of tights that you want to draw attention too and not to blend in, personally I love it. It's different, it's fresh. Great job.
6. Victoria Secret PINK Camo Workout mesh leggings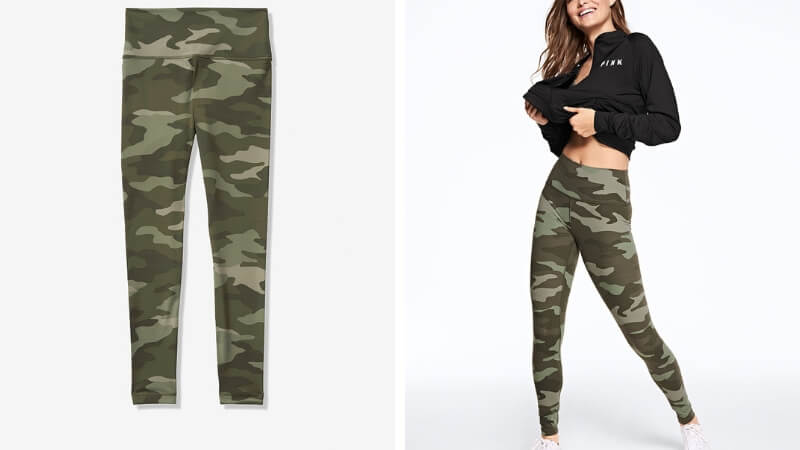 While most know Victoria Secret as the best lingerie brand, they actually have a lot of really good fitness items like this cool camo legging that not only looks great, but also feels really good on your body
7. Under Armour Mid Base Wool for MEN
Yes, the popular brand Under Armour create a men's camo leggings, not only that, it's a reversible one that's made of wool, how about that? What? You thought this list was made only for the ladies? You thought wrong.
8. Reebok crossfit tights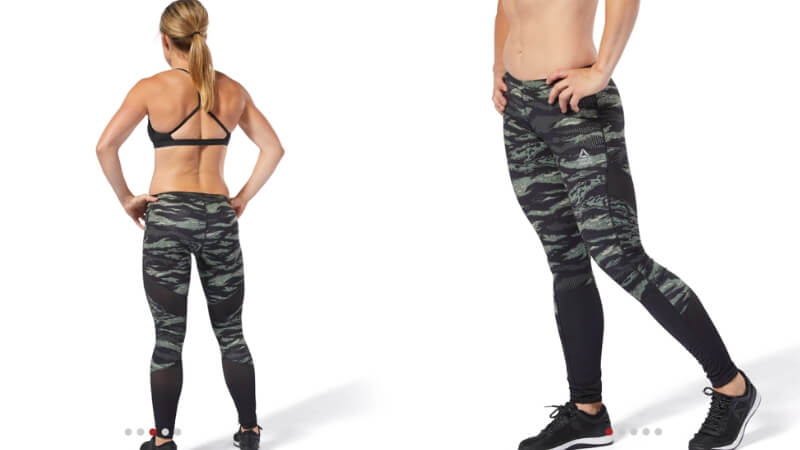 We love this brand, it has a legacy, their products never fall short from those of bigger brands and we think they also look pretty damn good. You can't go wrong with choosing a reputable brand like Reebok. You won't be sorry.