What are flared leggings you might ask, well, in a nut shell, flare pants or leggings are very similar to your everyday legging pants, but with one big difference. Instead of staying fit and tight all the way down, when they reach your knees, they start to widen out and go out like a flare. Hence the name. For the young audience reading this, it was a big deal in the 70s so don't judge.
Flared pants are sometimes referred to a bell bottoms because of the shape they make down from your knees resembling a bell.
History of the bell shaped bottoms or flared pants
Back in the 19th century, the naval didn't have a standard uniform yet, so the soldiers had much more freedom to change and edit their pants and shirt as they liked. This led to some people widening their trousers from the knees down to form the shape of a bell.
In more recent days, the United States Navy uniforms are still called " bell-bottoms " as the name stuck all these years, but in fact, the pants are not wide today, they just have a large straight legs pattern. The thighs of the soldier fills the pants nicely and when it goes down to knee level the human legs is just thinner so the pants appear to be wider, but they are in fact the same width and not flared.
It is believe that this style remind popular all these years because it's more comfortable to fold the pants this way as navel officers often need to work bare feet or in waters, but this is not proven and there are no documents supporting this reason.
Can you workout with your flared leggings?
You can, but we would not recommend it, usually when you work out you want to wear something that will fit nicely along your body, you don't want extra fabric flapping away when you run or when you do gym exercises, god forbid if that extra fabric would get stuck in a machine, now what? So usually you won't see people wearing flares as a fitness clothing.
So why do I need a flare legging anyway?
Well, just because you can't use it for working out, doesn't mean you shouldn't own at least one flared leggings pair, there are still other uses for these cool pants. For example, going out to a disco party? This is the perfect pants to wear. Because it's wide at the bottom, you can wear different styles of shoes that you normally can't with regular tight leggings, so you can use them as party pants or even event pants when needed. Owning at least one flare pants is a good idea for every girl.
Here are a few great flare legging designs to get you going:
1. Black high waist flare long leggings pants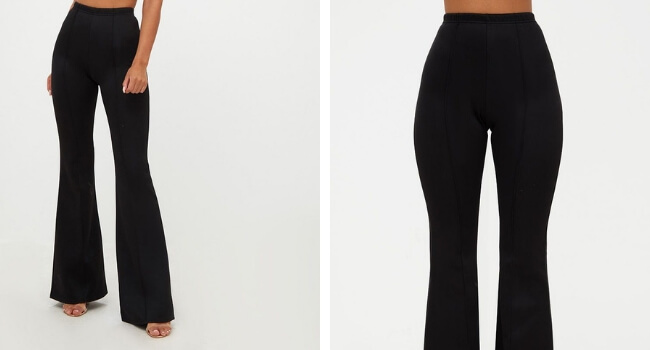 The flares are making a comeback! So every girl must own at least one flare pair to be ready when the right time is calling her to wear it. You can match this pants with a zip up shirt, maybe some high heels and you got a killer look and statement.
2. Printed flared-leggings by Forever 21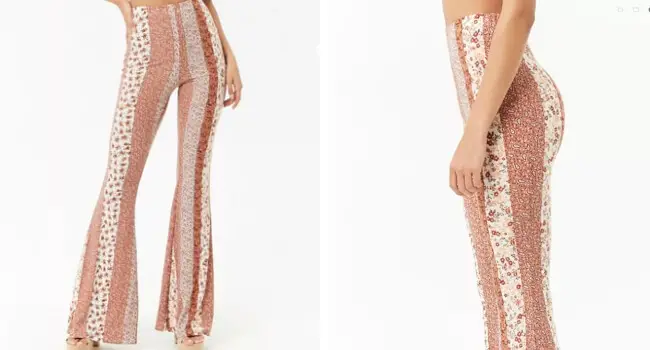 This pair made from knit pull on method printed with a very nice floral design pattern. An elastic waist will make this really easy to put on and off and the flare legs makes all the difference. If you want to rock the 70 look, you can't go wrong with this one. If you love this brand, we wrote about the Forever 21 leggings a while back, so check it out.
3. IVY & Main flared pants – Dotted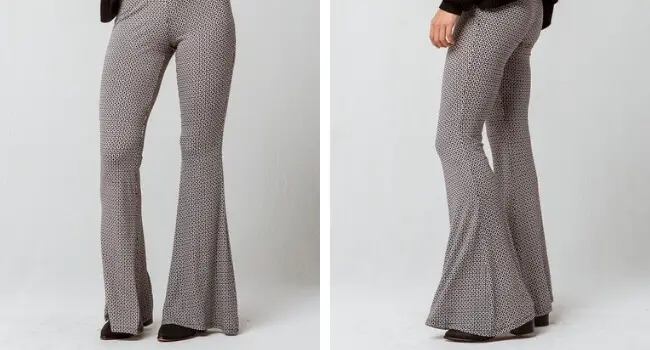 Can we even resist this pair? The dotted design and pattern is straight out of a James Bond movie right? You can wear these wide pants pretty much anywhere and belive us, eyes will be on you, in a good way. The soft fabric and the geometric shape makes this a real gem in the flared pants category.