Every woman needs at least one good black leggings right? And every woman likes to wear leggings due to their comfort, great look and that famous squeeze that gives the perfect shape to the body.
but when you are carrying a baby and slowly but surely start to outgrown your favorite pair of leggings and you are in need of something that will specifically fit your new baby bump? That's where maternity leggings comes along and save your day.
As you grow it's the perfect time to get some new leggings made specifically for pregnant women who need that extra support and flexibility in the belly area. Chose from a low rise, supportive, sleek or athletic, we cover them all on this list of the best maternity leggings.
Our honest suggestion? You need a couple of pairs to get you through these last few months before the baby is due and a little bit after for comfort. So Don't be shy to stock up, you deserve it.
If you don't want to read on and skip right to the list, here's a quick table of contents of the best maternity leggings list for quick reference. ( the links will move you to the right item on this page )
How many pairs of pregnancy leggings do I really need?
To be honest, there is no right answer here, every girl is different, some love to change a couple of times per day and some can wear the same one all day long, it really depends on your body and your own personal identity and character. But as a rule of thumb, you should own at least 2 basic black leggings so would always have at least one ready to go when you need it.
If you're the kind of person who only wears leggings anyway, then you should probably own more than a few, just so you never get stuck with all of them being in the washer at the same time, that will be just terrible. So make your own choices based on your personal experience with what you love to wear.
Things to note before choosing the right maternity leggings for you
Before we jump to the list of pregnancy leggings, we want to make sure you actually know the difference between tights, leggings and other flexible pants, so if you don't, make sure to check out this comprehensive guide we wrote about the differences between yoga pants, leggings and tights.
Another thing to know is that you should never dry your leggings in the dryer, it will shrink, and the worst thing that can happen to a pregnant woman is having her close shrink. So you need to follow the manufacturer's instructions and let it dry by hanging it and just wait patiently.
Another really super important note is that you don't want to get the wrong size, specifically a smaller size, don't forget, you're pregnant, you're gonna get bigger so think about it, a lot of leggings become see through when you stretch them so if you're getting a smaller size you risk of having a see through pants. this becomes particularly important when you hit the last trimester and your body is, you know, huge.
Some ladies reported that while the belly covering part of the maternity leggings feels awesome at the first few months, after a while your belly will get itchy and scratchy and you might not want anything covering it, so also consider this and maybe get both options. Full belly coverage and under the belly waistband.
Last thing to consider is the fabric, this could be a personal choice, but as a general rule you should choose pregnant leggings that feel comfortable on your skin because like we said before, you want to feel comfortable in your clothes always, but especially during your pregnancy because everything will feel different and could be a discomfort.
If you love the lighter fabrics and thinner ones that you barely feel against your skin. Great! Get those ( just remember the see through part we mentioned ). If you love the more thicker fabrics, also great! Some girls love the thick feeling of a solid fabric protecting and warming their skin, what ever your choice is, make sure you make it, and not someone else.
–PRO TIP–
plan ahead and get a few leggings in different sizes, because as your pregnancy progress, your body will change and so is your size, so the leggings you brought when you were on your 12 week might not fit anymore when you hit the 24 weeks mark. So consider this as well. 
So here's a quick review of the most important thing you should know before buying a maternity pants:
Fabric – Make sure to choose the fabric that feels best on your skin. most leggings come in Cotton, Nylon lycra or any other synthetic fabric.
Thickness – There are many thickness points in the leggings category. If you're like most pregnant women, you tend to get hot, so maybe picking a thick legging is not a great choice, on the other hand, if you live in a cold area or during the coldest months of the year, you still might want some warmth and protection.
Length – This becomes a issue when your legs are bloating up, veins become visible and you need to decide if you feel comfortable enough in your own skin that you can go with a capri length pair or you prefer to get the full length leggings.
Washing instructions – There are different ways to clean a pair of leggings, depending on the fabric and style. So choose your leggings that you know you can follow the instructions to not ruin your pair.
OK, so now that we have all the information, we can actually move on to the list of the best maternity legging pants, hope you like it.
Best maternity leggings 2018
1. 
A Pea in the Pod Luxe Essentials Secret Fit Belly Maternity Leggings
A great pair of maternity leggings that will last even when your baby bump is so big that you can barely see your feet. They are comfortable, stretchy and made out of a high quality fabric that will keep you and the baby warm as it is needed. The first item on the list and already it sounds perfect right? What more do you need? Check it out below
People love these because: A lot of reviews said the best thing about these leggings is the thickness and warmth.
2. ASOS MATERNITY Cropped Legging
With adjustable fastenings and flexible waistbands these leggings for maternity might become your favorite pair in no time. Made out of 97% Viscose and 3% Elastane, these leggings are designed to fit through all stages of pregnancy without any issues at all. We also really love that they come in black, looking like your regular basic leggings you love to wear on the daily.
People love these because: The close feeling on the body it gives you, feels nice and soft.
3. 
David Lerner Women's Maternity Leggings
Made out of Jersey fabric these leggings also feature a belly panel and non-elastic waistband that provides a great comfort. They look great and will keep your baby bump comfy for a long time. Many maternity leggings feature the belly covering panel and it's a great idea to make sure your baby is also safe and warm under the pants. Great item to see.
People love these because: The belly panel obviously, it's huge and covers your entire belly which is what you want when carrying a baby.
4. Maternity Pure Body low-rise leggings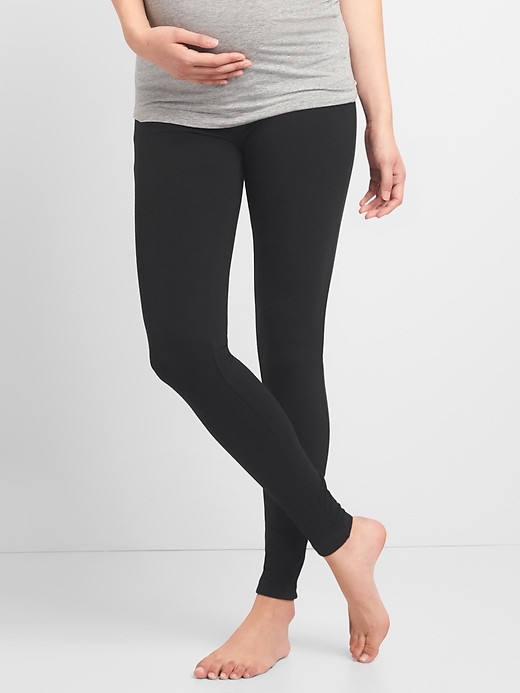 This is a supersoft, lightweight model that is very comfortable and elastic, which is perfect for you and your pregnancy. Easily washable, these will probably become your daily leggings that you always pick whenever they are available. Just make sure to lower your size after you give birth and go back to your usual size. There's a good chance you won't buy any other pair after these.
People love these because: they're super soft, and very elastic, easily becomes your go to pants for every event.
5. 
Splendid Secret Fit Belly French Terry Maternity Leggings
Looking for something super stretchy and comfortable, something that will also keep you and the baby warm? These leggings by Splendid really do an amazing job and most importantly they do not fade quickly. We all know that fading is a regular thing with clothes and leggings are no different, so it's cool to know that this brand can last longer.
People love these because: Durable, they will last you for a long time, and that's great.
6. 
Ingrid & Isabel Women's Maternity Active Legging With Crossover Panel
If you like to keep yourself active even when you are pregnant, try out these leggings made out of moisture-wicking stretch fabric. Even if not a runner, try them out, they are comfortable and very soft. For the active moms who don't want to give up their fitness routine just because a baby is growing inside of them. It also looks pretty cool and stylish don't you think?
People love these because: They can whisk away your sweat if you're working out. They look stylish and cool.
7. 
Plush Women's Fleece Maternity Leggings
Looking for a pure comfort and softness that is nearly impossible to get? Plush Women's Fleece Maternity Leggings will not disappoint simply because they will last and keep you as comfortable as possible in all situations. And if you don't already know, the fleece part inside will make sure your legs are warm and cozy. 
People love these because: The fleece, it's so warm and nice you could sleep in these.
8. Old Navy Maternity Low-Rise Leggings
A pair that will simply make anyone look great meanwhile pregnant. These are one of the best leggings from our list, they are comfortable, soft to touch and very stretchy. You can be sure to have those through your entire pregnancy with ease. Your everyday leggings that every women in the world wear, nothing less, nothing more.
People love these because: They are so popular it's like ridiculous.
9. 
Motherhood Secret Fit Belly Maternity Leggings
A pair that features a patented Secret Fit Belly panel will grow with your bump and keep you both comfortable at all times. Very elastic! This item actually looks very nice and can be worn to events and keep you looking good. The belly panel is a nice added value that moms to be will want to use. Could be a great item to try.
People love these because: The secret Fit Belly panel that grows with you obviously.
10. Active Maternity Capri Pants with Crossover Panel
Made out of a breathable, moisture-wicking fabric and featuring innovative Crossover Panel™ that provides enhanced lower-back support, these are the top choice of 2017. voted by many women out there. And just by looking at it you can tell it's not like the other products, the trade marked Crossover makes the difference here and these pairs are comfortable.
People love these because: They give support to your lower back, they look great and they breath.
Which pair do you like the most? Do you own any of these and what are your experiences?
What to wear with your new maternity leggings and styling tips
Now that you found your new favorite pair of baby bump leggings, you need to know what on earth are you going to wear with them right? Well have no fear, we are here to help. The first thing we need to remember about maternity clothes, is that they tend to be long, all of the sudden all your shirts are longer to cover your baby bump so in that sense you already have a great start.
For ladies who don't like to show their bumb, or maybe they just don't like to expose it to cold and simply because the upper part of the leggings is not that desirable, long shirts come very handy when you are pregnant. So make use of them.
Think tunics, dresses or long sweaters to go along with your leggings, strap on those low heels for fancy occasions and just your favorite pair of sandals and you are good to go lady. The best thing about being pregnant is that you can always get a pass on the latest fashion trends because you want to be comfortable first.
Here's a quick video on how to style your leggings just to give you a more deep view: