It's a question most women think about and I could not find a decent answer among my friends, how should leggings fit? How tight should they be? How loose? Is there any rule of thumb here?
No one teaches these stuff and it's known that leggings are one of the most popular clothing item ever, maybe even more popular than jeans, so how come there's no info on this? We will try and answer this question and get you on the right side of fitting your leggings
How should leggings fit – Rule of thumb guide
When trying on different sizes of leggings you should always remember these simple guides to make sure they fit you properly.
When putting them on, they should feel like a second skin, they should be be tight around your butt, your calves and thighs but you should not feel it too tightly, see below a few pointers on how to know if your leggings are the wrong size
1. A good rule of thumb is to look at your belly just above the waistband. If you notice your skin getting all wrinkled, or better known as a " muffin top " maybe the leggings are too tight and you should move up a size.
2. Check your crotch. If you notice excessive fabric around your crotch it's a sign to move down a size. Why? Because no one like chafing.
3. Another thing to notice is if the fabric of the pants becomes sheer or lose it's compassion. if that happens it also means the size is too small for you and you should move up.
4. Take the simple squat test. Just do a few squats like a frog and check these things: If you see your underwear or your skin, it's not the right leggings for you.
It might be too tight ( hence seeing your skin ) and it also could be from poor fabrics as high quality leggings are not see through.
5. Slipping down. If your leggings keep slipping down and you need to lift them up all the time, you need to size up 1-2 sizes.
6. On the flip side of fitting a legging, make sure they are not loose at the knees. Leggings should be fit and stretched from top to bottom so if you notice that in your knees it becomes baggy or lose, the size is too big.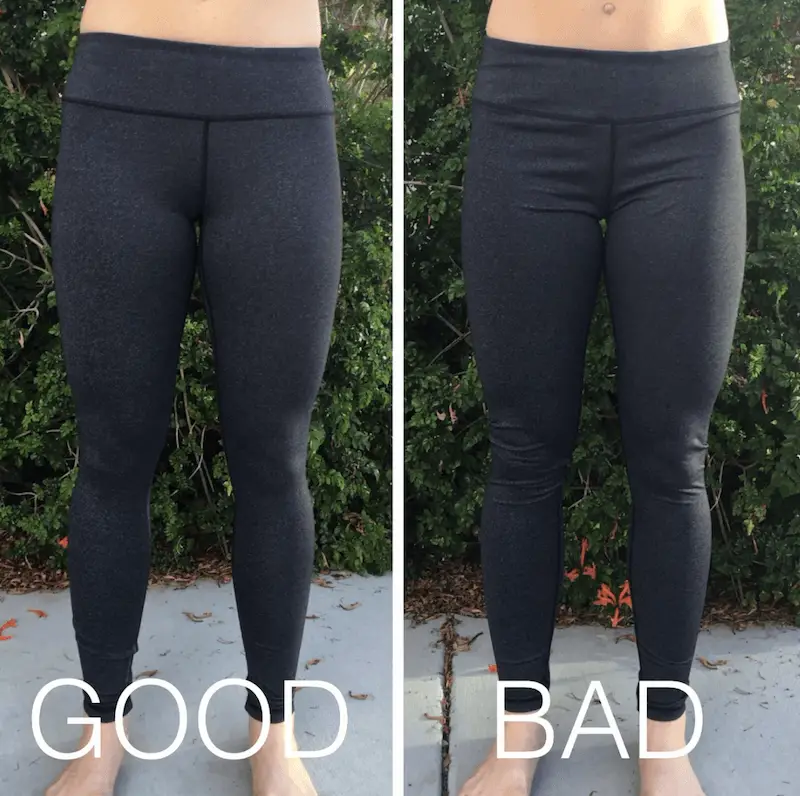 via diaryofafitmommy
Types of leggings that fit the best
There are a lot of different types of leggings from various fabric combinations it really depends on personal choices and what you like, but if you're looking for the best fit, we recommend choosing a pair made from a combination of cotton and nylon or spandex.
PRO TIP: If you feel like wearing leggings anywhere else from the gym, you be best to go with ankle length because the knee high leggings will make you look shorter. 
What people say about fitting leggings advice
" It's a matter of preference, leggings need to stay up, if I constantly need to pull them up it's the wrong size. "
" For me leggings that are too tight just feel uncomfortable. They should be fit, not too tight "
" It's a personal choice, just get the ones that feel the most comfortable "