A friend of mine asked me lately what is the difference between a bra and a bralette, and being honest, I didn't have a great answer for her. This is why we decided to research the topic, and provide you with all the info we found so you can find out for yourself.
Gone are the days when women would hide their lingerie. They are pretty – and pretty expensive – and anyone who owns them wants to show them off. Lingerie companies have made it easier for women to show off their bras – by introducing bralettes. But what is the difference between a bra and a bralette? Good question. 
The best way to describe their difference is by saying that the bra is innerwear, while a bralette is outerwear. Bralettes have taken the world by storm, and everyone wants to style them and show off their curves. A bralette is like a piece of garment that's edgy, feminine, stylish – and smoking!
What is the difference between a Bra and a Bralette

Everyone knows what a bra is. It's an overpriced piece of clothing that pulls and supports your breasts, gives them shape, and smoothens them to give your body a sculpted look. If you are particularly busty, it's hard to go without a properly designed bra, though you can skip it if you're not too well-endowed.
But bras are pretty, and everyone wants one, except they cannot really take pride in the pretty lingerie. Do you ever look at a bra and feel like you can throw away your top and show the world your pretty curves and the lacy bra? Alright, it's conventionally inappropriate, but the wish doesn't go away!
To make your wish come true and give you something new to display, there's the bralette. A bralette serves two purposes: 
A bra for support.

A crop top.
It is cute and lacy, and you can match it with a number of other clothing items to create a sensational look by accentuating your curves in an unconventional style.
The basic form of a bralette is a comfortable bra without wiring, padding, or lining. But like other forms of lingerie, the bralette, too, has many varieties.
You can now choose designs that offer support, lift, and shape without compromising on beauty. These are like a lacy cross between a bra and a crop top.
Since bralettes are primarily non-wired, unlined, and free from padding, you'll probably not enjoy wearing them if you are top-heavy.
You can slip on a bra beneath the bralette for added support, of course, or you can choose one that is designed in an evolved way to replace a wired and padded bra.
Primarily, bralettes can take the spotlight like a superstar and give you a glamorous and stylish look while offering comfort, too. On the other hand, the purpose of a bra is to provide support to your breasts and make them look shapely. They act from behind the scenes – or, in this case, beneath the clothes.       
The difference between a bra and a bralette can be defined with more details, though the differences are now fewer. But before we dig deeper and take a good look at what sets these two apart, let's know a little more about the humble yet efficient bra, as well as the stunning and comfortable bralette.
What is a Bra?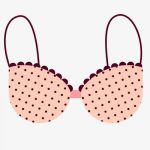 A bra, or a brassiere, is an undergarment that's designed to support your breasts. If you look at the product closely, you will realize that a lot of thought goes into designing the perfect bra. First, consider all the special features like the pads and the wires. These give you support and make wearing a bra a habit.
Then there's the fabric being used. There are different materials used in making bra varieties, and you can choose one on the basis of breathability, smoothness, beauty, and more. From cotton and spandex to silk and lace, everything gives the bra a unique look and feel. A bra offers supreme craftsmanship.
To make the fit better, a bra has 2-3 series of hook-and-eye closures at the back (and sometimes, in the front). The straps, too, have a slider to adjust the length. There are different types of bras, with a combination of the different features; you can also find those without padding and wires.
You can also find bras for special purposes like sports bras for your athletic activities, nursing bras for the breastfeeding woman, and more.
Depending on the size of your breasts, you can choose minimizer bras, push-up bras, etc. But no matter how fancy they are, they are not meant to be worn as a top.
What is a bralette?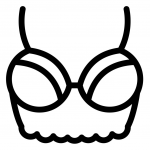 A bralette is designed to put a bra and a crop top together. It is designed for style and comfort, rather than support and shape. It works with skirts, jackets, and more to create a bold look in which you show off a little bit of skin and leave a lot to the imagination of the beholder. Bralettes have unique designs.
Since their primary purpose doesn't include providing pull or shape, they usually do not have padding, wires, or other such supporting features. They don't have the traditional adjustable straps of bras. They might have narrow spaghetti straps or a single back strap like a halter neck or a racerback.
But as more and more lingerie brands are coming forward to ensure that busty beauties do not have to be deprived of enjoying the beauty of bralettes, there are now new bralettes designed to handle curves. Yet, it is mostly popular among those who have smaller cup sizes, often teenagers and young women.
Bralettes cover a larger part of the upper body, and they can be worn as both underwear and outerwear. They are easy to wear, as you just have to slip them on over your head. They are usually made of fabrics like lace, cotton, and microfiber – and often a combination of all three of these, for greater comfort.
Main Differences of a bra and bralettes
Now that you understand the basics of what bras and bralettes are, it's time to understand their differences in detail. The key differences are in their design and features, which is what sets them apart from each other in their purpose. So, let's take a look:
a) Wiring
​One of the key features of a supportive bra is the presence of wires. These are curved strips of rigid material lining each cup at the bottom.
This provides stability. What used to be a plate over a century ago has now taken the shape of a wire to make it more comfortable. Yet, they are quite invasive.
Each wire extends from the center of the bra and goes under the breast area to reach the other end of the breast near the armpit. These wires can help with lifting, supporting, and shaping the breasts, all of which are the main roles of a bra. This is what sets a bra and a bralette apart from each other.
A bra that offers full support will have a wire, though there are unwired varieties, as well. On the other hand, bralettes with wires are quite rare.
Only specialized lingerie brands that are dedicated to catering to those who are a little heavy on the top create bralettes with wires, and they are hard to come by. 
b) Padding
​A popular feature of bras is the padding. These are responsible for giving a perfectly round shape and smooth look to the breasts. It is a thick layer inside each cup of the bra.
Padding may also contribute to an enhanced volume of the breasts. There are different degrees and materials of padding in a bra.
You will find a wide range of padded bras, ranging from lightly padded bras to the heavily padded ones. Whether or not you have small breasts, padding can give a fuller look to make your body appear more shapely. Additionally, the padding in the bra also prevents the outline of the nipples from showing.
Padding is less uncomfortable than wires. In the case of bralettes, you'll find an absence of padding, or they have thin and soft padding, much like a training bra. The lack of heavy padding is, in fact, one of the key features of a bralette, which is considered a much lighter item to wear.         
c) Lining
​The lining is usually a feature present in both bras and bralettes – with different purposes. It is a piece of fabric mostly used in special sheer bras to provide some coverage to the bottom part of the cups. So, lace or net bras have a partial covering. It also contributes a little to shaping and supporting your breasts. 
Bras that are described as lightly lined do not have padding. Instead, some bras are designed to have several thin layers of linings inside the cup.
Such bras are a little better at shaping and supporting, though, with prolonged use, this support action reduces. The lining does very little in hiding the nipple outline.
If the bralette is lined, the lining is more strategic to enhance the design and look. The lining in a bralette is made of an opaque material to create a contrast against the sheer material on the top. The lining is also used these days in bralettes for support and shaping. If you're big-breasted, this is a good option.    
d) Seaming of Cups
The cups of a bra are often sewn or seamed to provide support and shape. There are different seaming types based on the shape of the cup. Seams are sewn in different styles to provide different levels of concavity. But when it comes to bralettes, you will hardly find any seaming, except at the edges.
As you may know, there are different types of bras available, and their cups vary widely. On the exterior of these cups, you'll notice a different type of stitching. Be it partial seam, three-part seam, or vertical seam, the support and shape they offer are different. Partial and middle seams are all about shape.
A T-shaped seam, on the other hand, is intended to give you both support and roundness. It is also used to put together divided fabrics. However, bralettes, which are more like a piece of clothing, are seamed only at the edges, unless you pick a special design of a bralette that is meant to provide ruching.      
e) Straps
The straps of a bra are strongly built to provide support to the breasts. If you are heavy-breasted or have sagging problems, the straps of the bra can prove to be quite helpful. Of course, there are strapless bras, too, with either detachable straps or transparent straps so that you can choose them if you want.
Straps in a bra have a metal or plastic slider, which allows you to adjust the length of the strap for a tighter or looser fit. Convertible bras with detachable straps can be adjusted to form a racerback or a halter. Cage bras have multiple straps, while halter neck bras have a single one for complete support.
High-neck bras have fabric stretching across the shoulders. They offer different types of support. Bralettes, on the other hand, have fancy straps that are not exactly designed to pull your breasts up. The cups usually extend to form a single strap at the back. Or, there are thin straps without sliders. 
f) Material
The material of which a bra is made depends on the purpose of using it. For instance, maternity bras are usually made of cotton as they are worn throughout the day by a new mom. Bridal bras are made of lace, silk, or satin. They give a sultry look and feel that can make your partner weak in the knees.
Sports bras and t-shirt bras are made of stretchy materials like jersey knits, cotton blends, spandex, polyester, etc. These are perfect for athletic pursuits and an active lifestyle.
They are stretchy and flexible enough to make you feel comfortable. So, depending on the type of bra, expect a different fabric.
Bralettes are mostly made of lace and cotton, even microfibers. Of course, other fabric varieties are also used, like jersey knits, as well as natural fabrics like silk or satin.
The idea behind using unconventional materials in making bralettes is to create a fashionable look, rather than comfort or breathability.
More and more lingerie companies are coming forward to add utility to bralettes to bridge the gap between the two. Yet, the bra ideally remains an innerwear for support and shape, especially if you have a large cup size, while a bralette is a stylish addition to an outfit for those who can ditch the bra.
Transitioning from Bra to Bralette
Whether or not you should choose bralettes depends on the kind of support you need. Are you heavily endowed, and whether or not your innerwear can lift your breasts properly is a big concern for you? Then you have to be careful about picking the right bralette. But supportive bralettes are hard to find. 
The reason to shift to a bralette should primarily be style. If you can afford to shift to something stylish without being too worried about support, you can transition slowly so that you feel comfortable about pulling off the sultry look in public. Here's how to move to bralettes, confidently.
Find the right size and design to ensure that it is meant for your body type.

   

Consider wearing a bra beneath the bralettes for extra support.

Practice wearing lightweight bras to get used to the lightness of bralettes.

Start wearing it indoors to gain some confidence and get comfortable.
It's also a good idea to think of the various ways in which you can style a bralette. You'll need some fashion inspiration to understand how everyone else is doing it. That way, you will be able to think of incorporating a bralette in your own style. Here are a few ways to style a bralette –
Pair your bralette with an off-shoulder top.

Wear a dark bralette beneath a sheer top in a light shade.

Replace a top or shirt under an unbuttoned or partially buttoned blazer or jacket.

Team a sporty bralette with an overall or casual jumpsuit or romper.

Replace a crop top with it and wear it with jeans or a skirt.
There are many ways to experiment with the bralette. Whether you want to amp up the boudoir outfit for something stylish and seductive or go a little crazy in a modest way by wearing it over a white shirt, the options are many. You can even look for something offbeat, like a leather bralette.
Final Words
Depending on all these factors, the support provided by bras and bralettes differs widely. There are different types of bras available in different materials and designs, but their main aim is to provide support and shape. On the other hand, bralettes are meant to create a style statement.
While new designs of bralettes are being introduced to ensure that they can provide the pull and support you need if you are busty, their main aim is to act like a crop top that you can style in various ways, i.e., jackets, skirts, scarves, blazers, and more. Bras, on the other hand, are used as innerwear.
Sports bras, halter bras, and high-neck bras – or even a bandeau bra, if you want to categorize it as a brassiere – are still styled with layers like an open jacket, but other bras are only meant to be worn underneath other clothes. But if you're bold and not too top-heavy, bralettes are an excellent choice.