If you're wondering what bra to wear with halter tops, you're not alone. This dilemma is probably as old as time or at least since they created the first halter top design. In this post we will cover what halter tops are, what good mixes and mashups you can create with your bra and more. 
Halter neck tops are for the bold and fashionable. If you are proud of your toned shoulders, you need halter tops, dresses, and jumpsuits in your wardrobe.
The neckline takes the eyes off a medium to large bust line or curvy hips to the shoulders. But the question is, what bra to wear with halter tops?
Your regular bra is out of the question when you're wearing a halter top because of its revealing design. Thankfully, there is a wide range of bras that you can wear with it, like convertible bras, strapless bras, halter neck bras, and more! It will depend on the neckline and back design of the outfit you choose.
What Bra to Wear with Halter Tops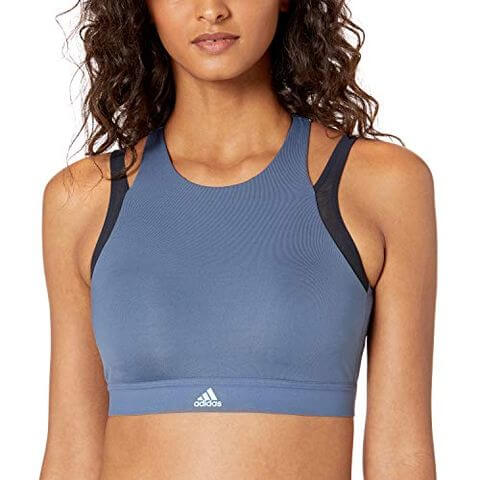 Halter neck is one of the most stylish designs. It is sensuous in a subtle way and maintains grace and femininity. Halter tops can range from turtlenecks to plunging necklines. They can be strappy, backless, or racerback. The design options can be as wild as the imagination of all the talented fashion designers.
For those who choose halter tops for the first time, the critical question is, what is the best bra design to go with such a cut? If you are not top-heavy, you can easily skip the bra altogether. But it's not just women with small breasts who enjoy wearing halter tops. It's flattering for fashionistas of all sizes.
So if you have a medium or large bustline, you will definitely need the support of a bra. But that's what causes trouble in fashion paradise!
Your standard bra looks odd with a halter top. Not only is the halter top sleeveless, but the front tapers above the chest. So, the bra straps on the shoulders will be visible.
You can, of course, specifically choose that look and want to show off the colorful straps of a fashionable bra from inside the halter top, tickling the imagination of the onlooker. But if you're not aiming for such a style, it will be better to pick a bra style that allows you to hide the straps – or have no straps at all.
Wondering what your options might be? After all, the heavier you are at the top, the harder it is to find a unique bra that can support you like your BFF without letting the world know that you need help.
But don't worry! There are plenty of options that you can try, though a lot will depend on your top's design.
The types of bras that work best for a halter top are:
a) Criss-Cross Bra
Unlike a regular bra, a criss-cross bra is one in which the straps cross at the back. So, these straps are set closer to the neck. You can wear it inside a halter top with thick shoulder bands. Regular bras that are detachable in the front can be changed into criss-cross bras by attaching the straps to opposite clasps.
Some of these have several straps and are supposed to be worn as outerwear or a sports bra. They often criss-cross in cute patterns. If you want to show off straps on purpose, these strappy bras are a great choice. Some criss-cross bras are non-adjustable. Before buying, ensure that they suit your halter top. 
b) Strapless Bra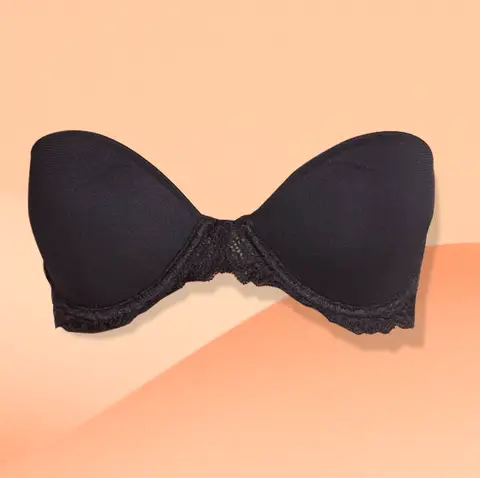 An easy way out of the strappy mess is to choose a strapless bra. If you thought that a strapless bra is only for a strapless top or dress – well, think again! It can work quite well with halter neck tops, as well.
Many regular bras come with removable straps. Just detach the straps to turn one into a strapless bra.
If you're looking for a strapless bra, make sure it has a thick band around the chest to give you complete support. Remember that strapless bras usually do not have a plunging neckline. So, match the bra with your top to ensure that the front of the bra does not play peek-a-boo from inside the top. 
c) Bandeau Bra and Tube Top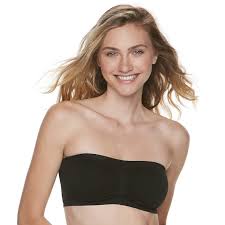 Another choice would be a bandeau or a tube top to wear inside a halter top, especially if you are not looking for too much support.
If you wear a sheer halter top, you can pull over a bandeau or tube top underneath it to create a unique look. A bandeau or tube top will give an even look to your body.
Remember that this is more of a fashion choice and not exactly a replacement for any of the supportive bras. Bandeau bras and tube tops, with or without straps, are for women who are not top-heavy, as they are designed to provide little to no assistance in holding your breasts up or giving them a shapely look.   
d) Adhesive Bra and Cup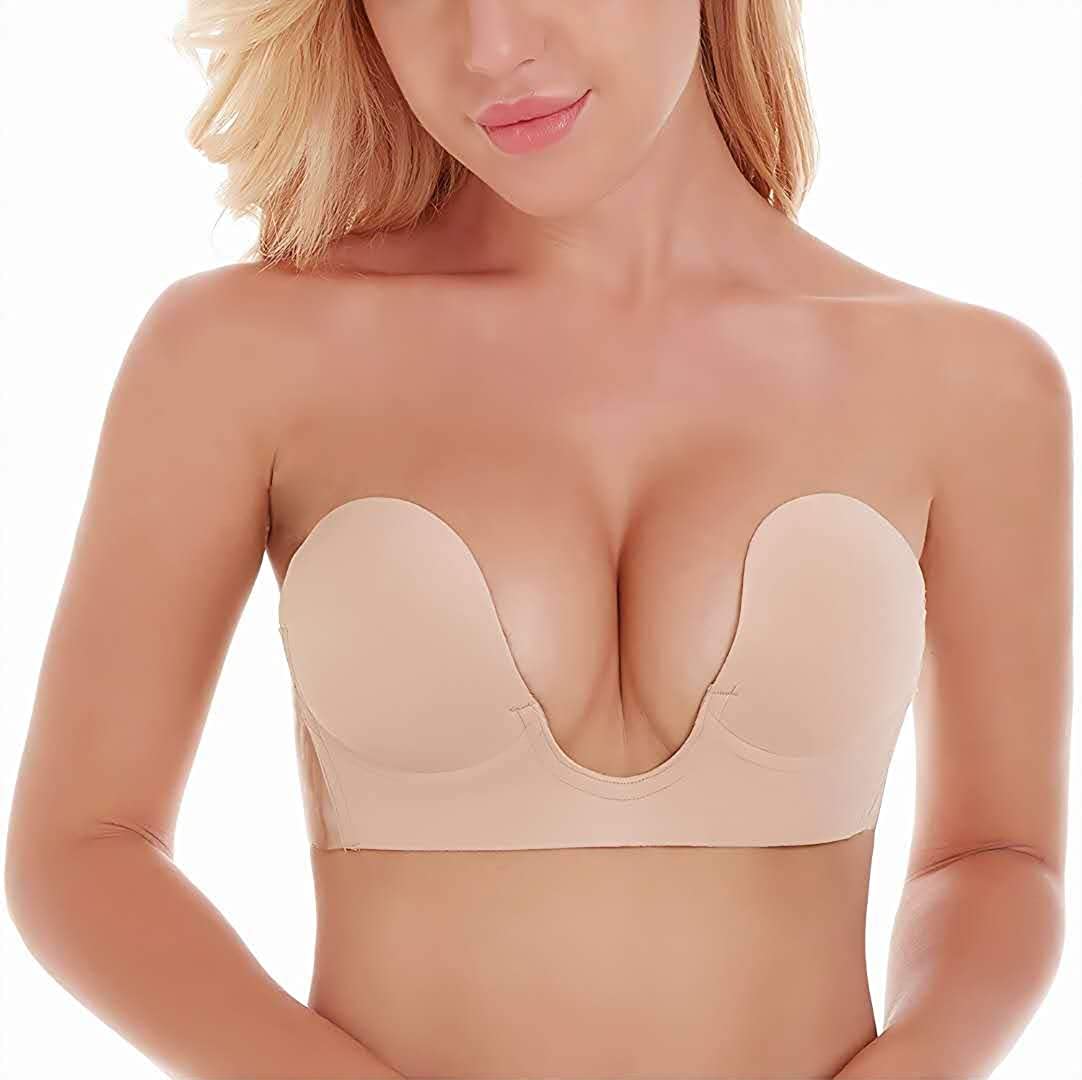 Adhesive bras are of various shapes, and accordingly, they offer different types of support and coverage. They stick on to the breasts, and thanks to the adhesive, they get attached to the underarms, chest, or back. But their advantage is that they are always backless. All the support they provide is from the front.
It goes without saying that adhesive bras made of silicone or lycra aren't supportive enough for busty women. They stay out of sight when you choose a sheer top or one with a plunging neckline or low-cut back. They also give a smooth look. Avoid winged bras, as the wing might show in the underarm areas.       
e) Bras with Clear Straps and Back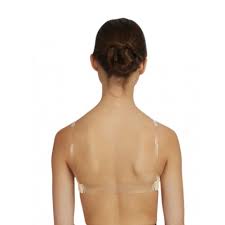 If you're not sure which of the unconventional bra designs are meant for you, perhaps it's time to try bras with clear straps and backs made of transparent materials. You probably already own one, at least a bra that has clear straps. As they're usually detachable, you can criss-cross them to hide them better.
For backless halter tops, pick a bra that is also designed with a band that's transparent in the back. But even though they are marketed as "invisible", they're not really so. The straps and bands are shiny and bite into the skin, which is frankly a little tacky. Even the frosted ones make their presence quite evident.    
f) Halter Neck Bra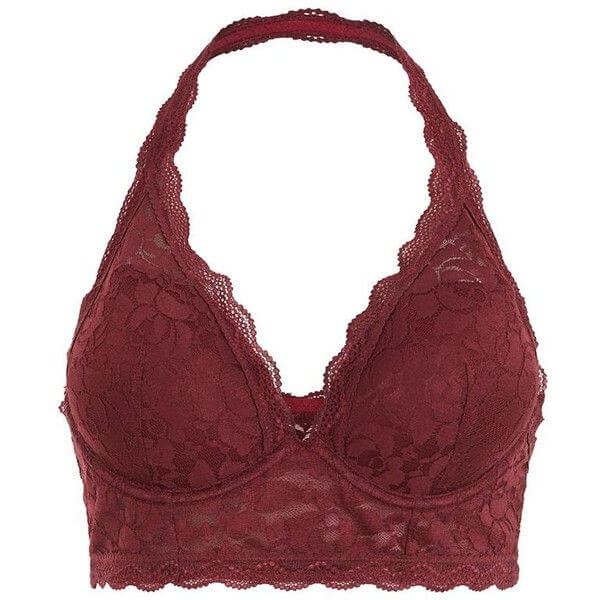 One of the best choices for your bra to wear beneath a halter top is the halter neck bra. Frankly, they make the perfect marriage. With a halter neck bra in place, you don't need to worry about hiding the straps or the dents created on the shoulders by them. You can just enjoy showing off your shoulders.
There is a wide range of halter neck bras to choose from, like bikini tops, bralettes, and sports bras. Each comes with a different design to team up with various tops, dresses, jumpsuits, and more. You'll find some light ones with thin straps, while others are wired and padded. Make sure to explore the options.    
g) Bralette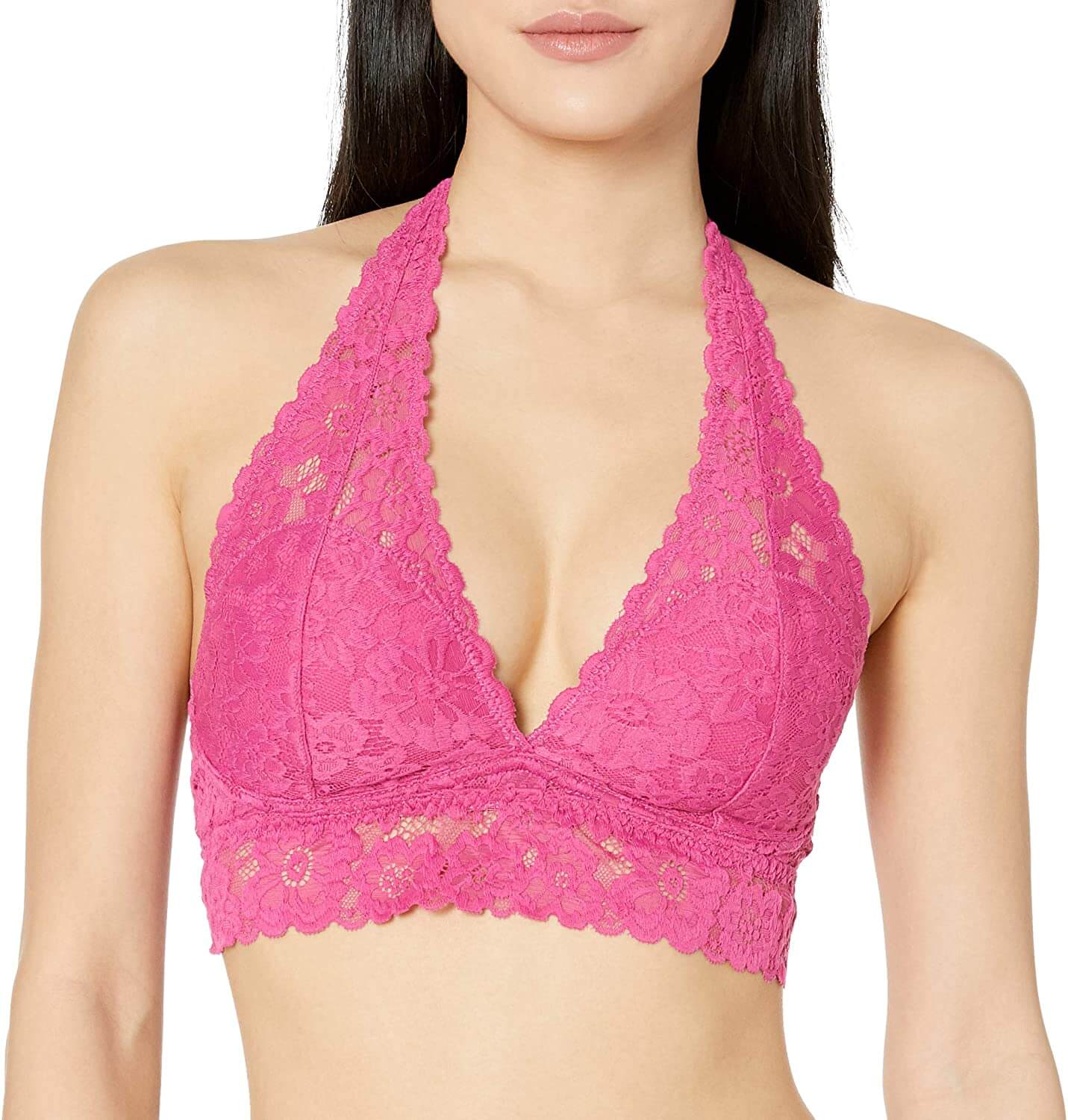 Bralettes, like bandeau bras, are primarily designed for coverage and overall evenness instead of providing support. However, there are many brands that create super-supportive bralettes for busty women these days. The fun thing about them is, they have multiple designs of straps, front, and back.
Many women love to wear bralettes as outerwear – and they are pretty much a bolder version of tank tops. You'll find halter neck bralettes, including the backless and racerback ones. You can even throw on a cute bralette under a revealing halter top with noodle straps – and look beachy, sporty, and fearless.   
h) Multiway/Convertible Bra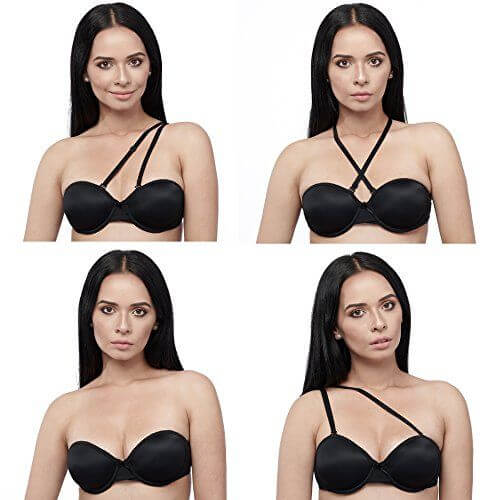 It is hard to believe that the idea and design of a convertible brand were conceived by anyone less than an engineer or physicist. For the layman, it looks like an ordinary bra with detachable straps. But an expert knows that it is a halter neck bra, criss-cross bra, racerback bra, and strapless bra – rolled into one!
Some convertible bras are wired and padded for complete support if you are top-heavy. Some of them come with multiple strap options. Then there are those with thin bands at the back for low-cut outfits. So here, too, you will have a large number of options to choose from to suit your needs.
Clearly, there are many popular bra designs to wear beneath a halter top. You will have to browse through a confusingly wide range before you can pick out the one for your body type and your outfit. Don't forget to consider features like material, padding, underwires, and strap style, while buying one.
Tips to Wear a Regular Bra with Halter Tops
A regular bra underneath a halter top! Sounds like an abomination, right? Even the bras in nude shades look pretty awful when they start to peek from beneath the halter tops. Unless you are deliberate about your choice to show off your bra straps, you won't look or feel confident when that happens accidentally.
After all, there's a lot of taboo associated with bra straps. Anyone who is busty indeed wears a bra, and it's not like the world doesn't know that. Yet, an accidental strap slip is a cause of humiliation and public shaming. But what will you do if you love a halter top, but you don't have the right bra to go with it?
Here are a few easy tricks to hide bra straps when you wear a regular bra with a halter top: 
1. Use Safety Pins/Paper Clips:
In regular bras, the straps are pretty much straight as they run across the shoulder down to the back. A smart way to push them inside a halter top is by using a safety pin or a paper pin to join them at the back at one point to create a criss-cross. It's best if you loosen the straps a little using the slide adjuster.
2. Buy a Bra Clip:
If using a safety pin or paper clip doesn't sound classy enough to you, you have another option – a bra clip. These clips work in the same way as a paper clip would hold the straps together. However, bra clips are safer because they will not stab you in the back. They also have a much more supportive design.
3. Get Strap Cushions:
A strap cushion is like a pad that sits beneath a bra strap and keeps the strap from biting into your skin. But there's more. Not only will it prevent skin dents, but it will also prevent the strap from slipping and peeking through. Invest in high-quality bra strap cushions to serve two purposes in the same go!
4. Fashion Fashion Tape.
Here's another clever solution to prevent peekaboo straps when you wear a regular bra with a halter top – fashion tape! These are like two-sided tapes, only for clothing. All you need to do is to use a small piece between the bra strap and your halter top's fabric to hold them together. Now isn't that nifty?
These tricks will not work on backless tops. The trick that will allow you to skip the bra altogether is sewing cups inside the top. But for that to work, the outfit needs to have a body-hugging design, or you won't get proper support. You can take a tailor's help for this or destroy an old bra and go DIY with it!
Why Halter Tops are Popular
If you're constantly looking out for unique designs and styles, you have probably considered halter tops. Hey, you probably have a few in your wardrobe already. But why are you still hesitant to wear it? You already know of the bras to try with a halter top. So there's no more reason to question your choice.
Granted, you might be apprehensive about stepping out of your regular fashion choice to pick up something that reveals your shoulders. Plus, it's hard to figure out if this new shape will look good on you at all! But the good thing about the halter neck design is that it flatters tricky body shapes easily!
Halter neck tops bare your shoulders and show off your collarbones. While doing so, they take the attention away from your neck, bust, midsection, and hips. So, if you are looking for an outfit to divert the eyes of an onlooker away from your curves, a halter neck top will be able to do that quite perfectly.
Does it mean that you should not wear it if you have small breasts? Well, of course, you can! That's the beauty of halter tops – they are available in various designs, and you can choose something with a V-neck or a plunging neckline to suit your body and show off a little bit of cleavage, along with your toned arms.
By exposing the shoulders and adding volume around the neck area, halter neck designs create a balanced look for the body. So, if you want to mask your curvy hips, halter tops can do that. They are also perfect for both hourglass and straight midsections. Simply put, the halter neck is a blessing for all.   
The halter neck design is applicable in tops, dresses, jumpsuits, and even swimsuits. They fit all occasions, from business casual events to weddings, from vacations to dinner dates. It is a versatile design that can be incorporated into various styles. It's chic and can be as modest or bold as you want.
But what kind of jewelry should you wear with halter tops? If the neckline is dramatic or has lots of volume, skip the necklace. You wouldn't want things to get too busy. All you need is a pair of elaborate drop earrings. But if the top design is simple, you can try to pair it with a light, thin chain or choker.
You can also pair it with statement jewelry. Large and chunky necklaces are trendy, and they draw attention by creating a tasteful look when you wear one with a halter top. Statement necklaces look good with high neck designs as well as revealing ones and add a modern and cool touch to the outfit. 
Final Words:
Halter tops are flattering, but it's tricky to find the right bra to wear with them. That's because when the straps keep showing unintentionally, they cause a distraction for an onlooker and shift hog the limelight as they sit digging into your broad, toned shoulders. But the right bra can help you avoid such a situation.
You can also wear a regular bra and apply some tricks to avoid the strap show. But it might not work for all kinds of halter tops. Of course, you can choose to show off the straps on purpose, but even that look will need the right bra. So, take a shopping assistant's help to find the right bra for your halter tops.
More Related Posts: