Leggings are now an everyday clothing item, face it. Leggings are pants, fitness clothing item, and even dress wear so get over it and accept it already. You love them too, we know this.
So now that we agreed on this you want to know what shoes to wear with leggings right? Well, this article is exactly about this topic and we will help you figure out which shoes to wear with leggings or yoga pants.
What shoes to wear with leggings – The basics
The first and most obvious thing to consider when it comes to leggings is that they are tight. They usually have a very close feel to skin fit and you can't really get away from showing your true body shape when you wear them. Example below: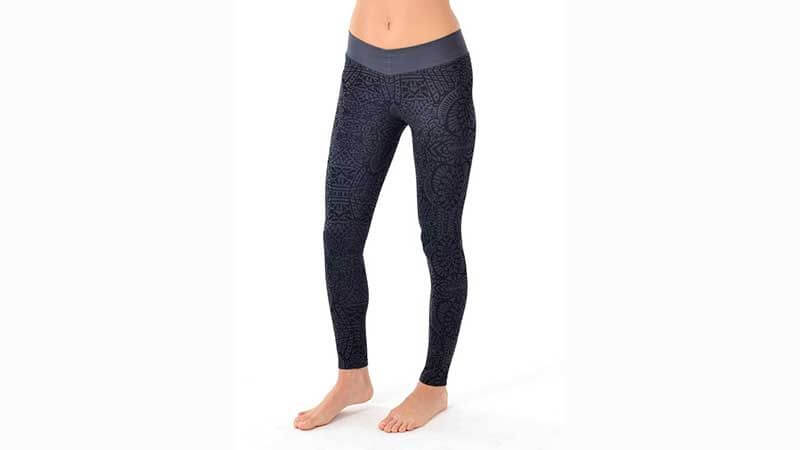 Now the trick to wearing shoes with leggings is almost always about the type of shoe and legging you want to pair it with. If the pants you have on are wide at the bottom, you can't really wear a sneaker shoe to go with it right? Sneakers go great though with leggings that are tight at the ankle like in the picture above.
So, the perfect kind of shoes to wear with leggings in our opinion are the mid level Adidas super star. Why? Because they are just the right height to seamlessly continue the leggings ankle line and they are built wide enough but not too much so they just look good and sporty. Check it out below, tell us that's not awesome: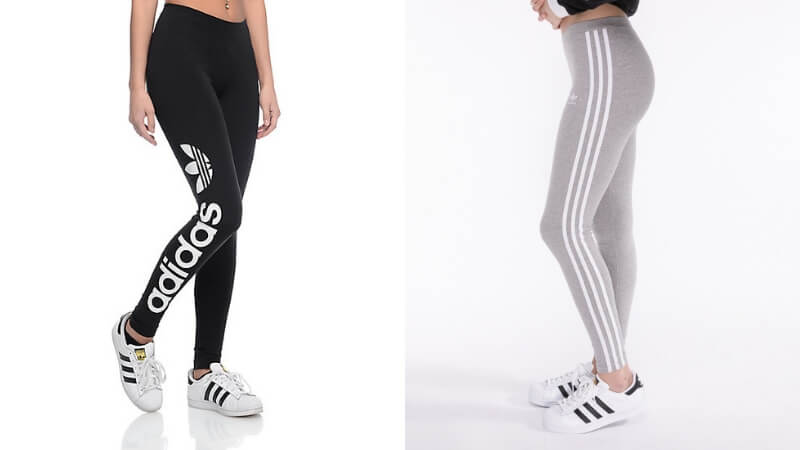 What type of shoes to wear with leggings – best and worst:
We put together below a short list of the best shoes you can wear with your leggings and we also mention a few really bad choices you should never wear with your fitness cloths. Browse through the list and see if you have style or need to make a change.
Best shoes to rock with your leggings
1. Sneakers – So, like we already mentioned, we think the Adidas superstar shoe is the best option to wear with your legging, but honestly, any other sneaker will also do. As long as it's the right height and not crazy wide, it will look good. We promise.
2. Slip on sneakers – YES, these will work too. The idea is very similar to the sneakers we mentioned above, but sometimes you just want to slip on a pair of shoes quickly and not really think about the laces and what not, so slip on sneakers can work well with leggings too. You're welcome.
3. Loafers – Are you surprised as we are? Well, apparently, the loafer shoe can be a very stylish choice to wear with leggings. It's not our first choice, and we personally don't really go with these type of shoes, but we can't ignore the fact they look pretty good, so it's on this list.
4. Ankle boots – These are perfect for when going out to a party or a date and you want to look sharp with your leggings but still wear shoes that look good. The ankle boots will give you a sophisticated look that says " Yeah, I look good enough to wear leggings for a date but I didn't just threw something on, I thought a bout it a little bit and decided to go with my ankle boots. "
5. Heels – These type of shoes might have been on the top of this list, but we could also say we saved the best for last. Wearing heels with leggings is a popular choice, it makes your legs look longer, it makes your bum look bigger with leggings and it just works.
Worst shoes to wear with leggings:
1. Flip Flops – Just don't ok?! Do we really need to explain why wearing flip flops with leggings just looks sad? It looks like you just stepped out of bed and did nothing, you can't pull it off I don't care who you are.
2. Wedge Sneakers – NO, this is not the same as regular sneakers. Look it up, there was a trend somewhere in the past that people thought wedge sneakers are cool, but they quickly got over it ( Thank god! ). Only the brave put on these shoes together with leggings and we really belive these people were like unicorns, everyone knows they exist but no one saw one in real life.
3. Ankle strap shoes – Again, not the same as heels, the ankle strap shoes just don't look good with leggings because they have the strap thing that makes it look like you wear cuffs on your ankles, so let's try an avoid that ok? Great.
4. Sock boots – This just makes it look like you are wearing leggings over leggings, and somehow you got a sole in there. In general, these boots don't look good with anything, so why would they look good with leggings too? Think about it, it's science.
5. Brogues – No one should wear these shoes ever! It does not matter if you wear leggings or any other pants, you should not mix those two together, sorry! Next!
Remember this thumb rule when thinking about what shoes to put on with leggings:
mid height sneakers that leave almost no space between your leggings and ankle
Do you think we missed something? We will love to learn about your styling tips and get your feedback about this article. We tried and provide the best value we could about how to wear shoes with leggings the right way and not look like a total mess. By the way, by mess we mean someone that has no clue about anything, not clothes, not anything, so we don't want to be that girl ( or guy ).